Scripture is clear: we are to pass on the knowledge and wisdom that God has given us to others in order to keep the gospel moving beyond the edge of the Church. The Apostle Paul was direct and explicit in 2 Timothy 2:2: "And the things that you have heard from me among many witnesses, commit these to faithful [people] who will be able to teach others also."
So how is that done? Bible colleges and universities dot America's landscape, all giving training to young and old alike who desire that training. But what about those who don't have easy access to a Bible institute or training facility? How are they to be trained?
Your partnership is enabling Ethnos360 to bring faithful people into the USA in order to train them to go back and "teach others also." Some of these faithful people have come from countries where the gospel is not welcome. Others have come from places where there are open doors for the gospel but where there are no training areas available.
Norbert Yao and his wife, Annie, are an example of the latter. Let me share an interview that took place between them and Ethnos360.
Ethnos360: What is your background? Where were you born? What was your religious upbringing?
Norbert: I was born on January 1, 1964, in the south of Ivory Coast I am from the Baoulé tribe (about 3 million located in the center of the country). I was born into an animistic family where I saw my father worshipping idols. My father had four wives; I am the second of 32 kids. I [lived] in that environment until I got saved.
I am married to Annie (from Liberia) and we have been blessed with three girls: Tabitha, 19; Debora, 17; and Mildred, 13.
Ethnos360: How did you get introduced to Ethnos360 — Vision Intégrale in West Africa? What was it that drew you to the mission?
Norbert: I got saved when I was 25 years old in Liberia in February 1989. While in Liberia a civil war broke out, and I returned to my home country (Ivory Coast) with the hope of returning to Liberia once the war was over.
In Ivory Coast I was in Yamoussoukro where NTM Ivory Coast (Mission Évangélique à Tous les Peuples) had their main office. I met some of the missionaries who had evacuated from Liberia to Ivory Coast. As a young believer, I was looking for a church and an opportunity to grow in my walk with the Lord. God brought me to the NTM community in that country, and I started to be discipled through a Bible study with Jim Finnamore and through everyday life with many others like Theo Enns and Ken Welch.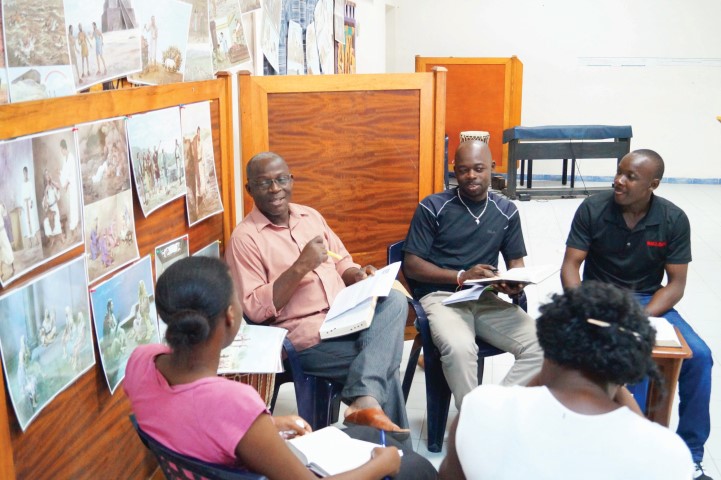 In 1998 my wife and I finished four years of Bible school and started to work for the mission in Ivory Coast. In 2002 a civil war broke out in Ivory Coast, and in 2006 the field was closed. I was asked to go to Guinea and be a help in the office. My family and I moved to Conakry, Guinea, to work for NTM Guinea (Mission Evangélique de Boké). In 2009 the leadership for West Africa asked me to go to Senegal to help with the culture and language acquisition program and the church liaison ministry and also to start a training program for West Africa.
Ethnos360: What led to your being trained in the United States? Why not choose Canada, the United Kingdom or Australia?
Norbert learned that God can use ordinary people to reach His goals.
Norbert: We were asked to join the main office in Senegal as full-time members, not as workers with a salary [as we had been up to that point.] We were excited at the idea of being full-time members. At the same time in order to fulfill the task asked of us, we felt the need of being trained. When we were asked where we would like to go for the training (USA, Canada or England), my wife and I said that we are open to wherever God would lead us. We then applied for Canada for some family reasons, but unfortunately, we did not get the visa. We then applied for the USA, and three weeks later we were in Roach, Missouri, [at the Missionary Training Center.] We believe that God was in control.
Ethnos360: How do you feel you have benefited from the training in the United States?
Norbert: I was amazed by the quality of the training. Having all these qualified church planters sharing their experiences of how God can use ordinary people to reach His goal changed my view of who can be God's servants. The training reshaped my understanding of the needs among the unreached and prepared me for the next mile.
Ethnos360: Were there any downsides to taking the training in the United States?
Norbert: One I can mention is how the unreached people are pictured in the US context. While the trainers all have church planting experience, it has been 15 to 20 years since some had worked in the African context. We are in a changing world, and the concept of remoteness of unreached people groups in Africa needs to be re-evaluated and challenged since that time. Therefore, any African taking training in the USA may question some of the ideas, as they do not match the realities on the ground in Africa. [Editor's note: This accentuates that importance of having trainers who have first-hand experience in the contexts where their trainees will serve.]
Ethnos360: Has it been possible to replicate the training in Africa? If so, what are the benefits of having training in Africa?
Norbert: Africa was the only continent where [Ethnos360] did not have a training center. Working to [develop] a training program for West Africa was part of my job description. We are implementing a training program for Africa with our colleagues of South and East Africa. As we continue to develop the training, we are utilizing the curricula used in England, Canada, the USA and Australia, but we all agree it needs to be contextualized for West Africa and Southeast Africa regions.
We had our first training in 2013 with 12 students, four of whom are serving with Vision Intégrale and three others are involved in church planting for their local church. The idea is to provide comparable training so the African missionaries are equipped to serve on teams comprised of multiple nationalities.
The benefit of replicating the training in West Africa instead of sending the candidates to training centers in the west is that we are training them in the context in which they may have their ministry. It [makes it] quite easy to relate to some realities that are taught. The training is contextualized, and the focus is to challenge the candidates to see their "world" as it is. It costs less, and the candidates do not have culture shock by moving to another culture even though they may have to experience culture shock during their ministry.
Ethnos360: Thank you so much, Norbert, for opening up for us. May God continue to direct you in your many ministries.
You in partnership with Ethnos360 have had an important part in training men and women like Norbert and Annie Yao. He is now taking what was taught to him, and as a faithful man, he is teaching others what he was taught — but in the African context!
Would you continue to be a part of seeing faithful men and women from a mosaic of cultures and backgrounds trained so that there can be a thriving church among every people group?