JOHN Video Project for the Yuracare – Bolivia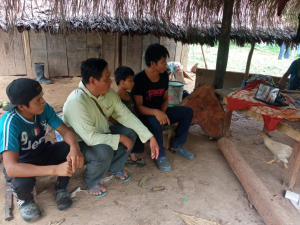 Project Number: PBO014
Goal: $6,300
Achieved: $368
Bolivia, Latin America
Only about one in five of the Yuracare people group are literate in their own language. Many of the older leaders of the villages become church leaders. Few can read with good comprehension. There is also the issue of suspicion of outsiders, especially in those villages that are very isolated.
This project would allow the Yuracare to have the John video in their own language. This video becomes a powerful tool that helps them understand the life of Christ. This understanding is paramount for establishing New Testament churches throughout the Yuracare that will become thriving churches.
How You'll Be Helping
Your gift to this project will allow us to prepare the John video series for the Yuracare people group, being especially helpful to the isolated, outlying villages. The more isolated the village, the more wary and suspicious they are of outsiders. This makes it difficult for them to concentrate on anything the outsider is teaching. However, videos are non-threatening. The people let their guard down and listen. For that reason, we believe that well-done videos in the heart language of the people are a great tool for the ministers and missionaries who go to those isolated areas.

Other Ways To Give
Use the form above only if you are giving by credit card.
To give by check or money order, make it payable to Ethnos360 and include a note if you are designating it for a particular project or missionary. Mail it to: Ethnos360, 312 W. First St., Sanford, FL 32771
Learn how to make recurring gifts with Electronic Funds Transfer