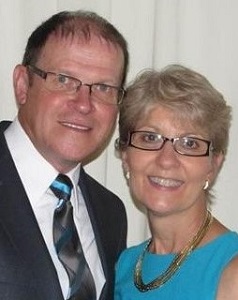 Dave Hilt
Address:
Apache Junction, Arizona
Now serving in the Southwest…
After 21 years of mobilization efforts in the Mid-Atlantic/Greater Northeast, Dave and Joyce transitioned to Southwest USA in 2020. Prior to taking their stateside role as representatives and global missions advocates, Dave and Joyce served 16 years in Papua New Guinea. They began their field ministry in a Highlands people group and then moved to reach a people group on a small island in the mid-80s. Deteriorating health forced them to leave this area.
Dave and Joyce returned to the mainland and served on the field headquarters publications team where Dave supervised the graphics department as well as offering assistance to missionaries through practical helps in outlying areas with his building skills. He also assisted in training national believers for ministry, taught Bible classes in a government school and taught a journalism class at the mission boarding school.
Joyce served in bookkeeping and was a proofreader/typesetter for the publications team. She conducted classes in domestic care for national women and developed a local ladies outreach ministry through Bible studies. Joyce also assisted in teaching classes at the boarding school and provided music/piano instruction.
Together Dave and Joyce ministered to co-workers through their gifts of hospitality and helps. Dave and Joyce worked with another couple as spiritual advisors with two of the high school classes.
Before partnering with Ethnos360, the Hilts served in local church ministries in south-central Pennsylvania. They began in youth ministry and then conducted focused Bible teaching among young families, eventually developing an evangelism and home-discipleship outreach in their community. It was at this juncture of life when God challenged them to embrace missions in light of the Apostle Paul's declaration in Romans 15:20: "to preach the gospel, not where Christ was named."
Dave and Joyce are available to speak to your church, in conferences, in small group settings, in home meetings, in camps, schools, colleges, to children and teens, and to host a variety of cultural events to stimulate the greater interest of God's heart for the world. Schedule them to help you grasp a deeper focus of God's heart for the world. Or as Dave says, "to show you what you don't know you don't know."
The Hilts' passion is to see the Lord raise up those who will go to the ends of the earth in planting churches among the nations. Perhaps they could assist your church's or individual's interest in missions. Dave and Joyce bring with them a fresh and invigorating focus on missions, often using drama and other visual means to stimulate a greater interest in missions.
Dave and Joyce were married in 1974. They have one daughter and three grandchildren. They now reside in Apache Junction, Arizona.
Serving in ministry since 1977 … in missions since 1981
Contact them at: david_hilt@ntm.org
717-858-0192 talk-n-text