Chronological lessons clear the confusion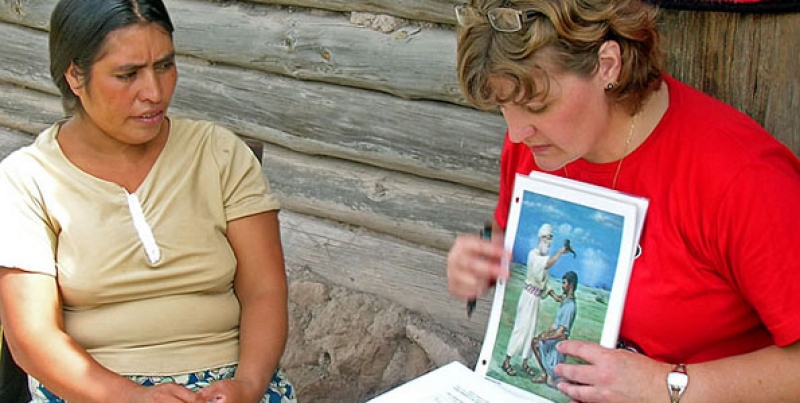 Careful Bible teaching can help prevent confusion -- and is vital when belief systems are already confused.

The Northern Tepehuan people of Mexico have been exposed to Christian influences for more than 400 years, and they have mixed much of what they have heard with their own beliefs. The Tepehuans speak of God, Jesus, Mary, Judas, Pharisees, etc., but with no understanding of who these people are and were.

They believe God and Satan are twin brothers and co-creators. Both are active in the world, although God is distant and much less involved. Any time a Tepehuan does something that is harmful to others it is because the devil made him do it.

The Tepehuans say that they are children of God by birth and all who are not Tepehuans are children of Satan. The Tepehuans are responsible to maintain peace on earth and even to bring God back to life as he dies every year during Easter. He is dead for three days, and their religious activities are crucial for God's continued existence.

Jesus was the child of God and Mary. Jesus, a Tepehuan man, took another Mary to be His wife. Because he was a Tepehuan, people who were not Tepehuans persecuted and pursued him. Since Mary could not continue to evade the pursuers, Jesus allowed himself to be captured and faked his own death. Then he escaped across the sea to rejoin Mary.

The Tepehuans believe that everything bad -- such as evil, sickness, death and crop failure -- is a result of this persecution of Jesus.

How would you present the truth of God's Word in that kind of situation? Where would you start?

You need an approach that communicates truth that will change people from the inside out. You need a narrative approach, but not just a story. You need to tell God's story in a way that brings out and reinforces the principles and precepts that God is presenting in His Word.

Starting in the beginning and allowing the Word of God to define each event, each person involved, and the truth is vital in order for the Tepehuans to see for the first time who God is, who Jesus is and who the Tepehuans are as a part of Adam's race.

And it works.

In spite of the confusion, and their view of those who are not Tepehuans, chronological Bible teaching provides the Biblical framework and understanding to open the Tepehuans' minds to the amazing truths that have evaded them for centuries.

And a small body of Northern Tepehuan believers is beginning to understand and live the implications of the Gospel in everyday life.