The last day of the year. Out with the old year, in with the new. But no time off for the holidays here in the village; all the festivities actually mean lots of extra opportunities for new-to-me cultural events which make for excellent, fascinating culture and language acquisition classes! Today I am observing the process of making a delicious traditional corn dish, called mambe.
Please join me on a wooden bench in my friend's kitchen as her sister, her mom and her aunt work together in this culinary endeavor. Instead of sharing language and culture notes on "How To Make Mambe," however, I'd like to share a heart lesson that God taught me through this class. You'll need to use a bit of imagination because we are going to look at this process from the corn's point of view.
The Agony of the Corn
The ear of corn is first grated, rubbed hard and firm time and time again against a sharp, rough metal grater with jagged holes that look as if they were punctured by nails. Its kernels are thus scraped off slowly and painfully. Then the cob, bereft of its goodness, joins a heap of corn cobs already on the ground.
Meanwhile, the grated kernels of corn, having already been subjected to complete torture, are given a rest, right? Not even close! They are unceremoniously dumped into a huge pestle and pounded mercilessly with a heavy mortar, beaten up and down, crushed from side to side, round and round. The crushed corn is then sifted. The fine yellow powder which falls through the mesh is reserved, while the coarse bits that remain on top are tossed back into the pestle and pounded again. Each repetition of the process pulverizes the grains of corn a bit more, until all that remains is a fine yellow powder. This is mixed with a bit of water and mashed manioc root.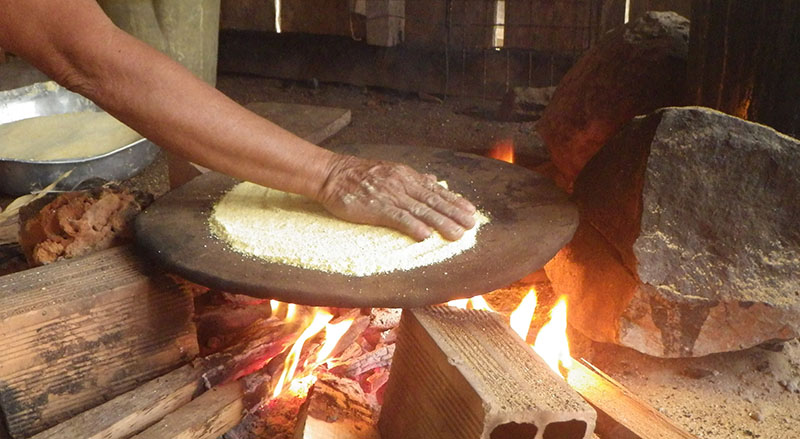 Next comes the fire. Mambe is baked on a round, flat stone, positioned just a couple of inches over a scorchingly hot fire. All moisture is baked right out of the cornmeal, resulting in a finished tortilla-like product that is hard, dry and crunchy.
This is only one of several "recipes" I have observed during corn season, all treating the corn in different ways to make different traditional foods. The other recipes are no gentler to the corn. At any point of making mambe or manzuat or ee or some other food, I can imagine the corn saying, "Stop! That's enough! It hurts too much! I can't take it anymore! How much suffering do you think I can deal with? Why is this happening to me? When will the pain end? What is the point?"
'You Are the Corn'
Sound like anything you've ever said or thought? So have I.
As I sat in the hot, hot kitchen the last day of the year, notebook, pencil and camera in hand, the Holy Spirit spoke to my heart with His still, small voice: "You are the corn." That simple analogy provided much food for thought, prayer and meditation in other quieter moments alone with God.