There's a big world that needs Jesus, and this big building could be a big help if you take part in unlocking its big potential. Its strategic value is so big that we've made this our project for 2016.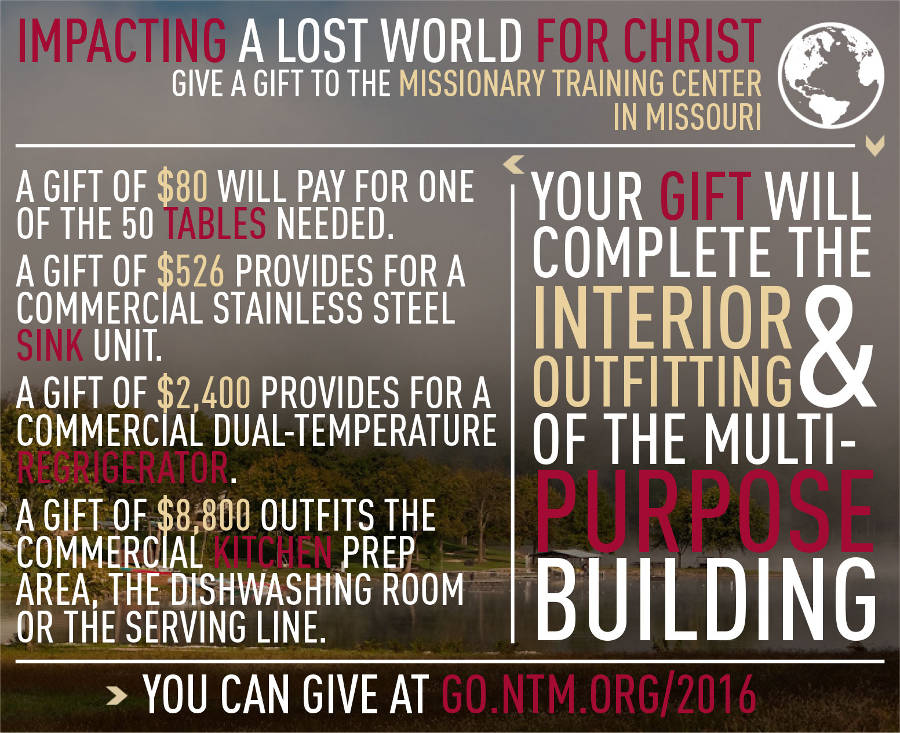 The multi-purpose building is in the heart of NTM's Missionary Training Center in Missouri's Lake of the Ozarks area. While the outside is complete, the inside is still a construction zone. With the funds to complete that work, the building will play several key roles in impacting a lost world for Christ.
Recreation and campus meetings: A place to play basketball, run on an indoor track and hold campus-wide meetings and events will help unify the staff and students as one community.


NTM conference and classes: New Tribes Mission will be able to resume the annual gathering of its overall team, a strategic opportunity for building unity, providing education and coordinating effective ministries. NTM will also be able to initiate seminars and courses on specific topics in a central location for missionaries from around the world. These equipping events will make NTM more effective in establishing thriving churches among the world's unreached people groups.


Building bridges in the community: NTM-hosted events would help people in the community discover and understand the importance of the training center in world evangelization, and would help people nearby find ways they could be involved.
It's a big challenge. Your gift will complete the interior of the multi-purpose building and outfit it so it can serve the training center, NTM and the community, playing a key role in impacting a lost world for Christ.
Right now, it's a big building with big potential. Will you help unlock its strategic potential?