Asia-Pacific Helicopter Fund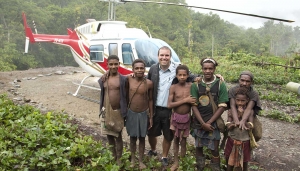 Project Number: PID013
THIS PROJECT HAS AN ONGOING NEED
Asia-Pacific
Many places where missionaries are planting churches or have been invited to plant churches in the Asia-Pacific region are accessible by helicopter only. Helicopter flights are even more expensive than airplanes, which seriously taxes the missionaries' budgets.

Subsidizing flight costs allows missionaries to use the helicopter when needed and opens opportunities for reaching new villages.

Each $280 gift pays for one hour of flight time.
How You'll Be Helping
Your gift enables missionaries in four existing tribal works to receive supplies and medical help more easily. It also affords opportunity to reach more tribal groups in areas accessible only by helicopter.

Other Ways To Give
Use the form above only if you are giving by credit card.
To give by check or money order, make it payable to Ethnos360 and include a note if you are designating it for a particular project or missionary. Mail it to: Ethnos360, 312 W. First St., Sanford, FL 32771
Learn how to make recurring gifts with Electronic Funds Transfer