Bible teaching illustrations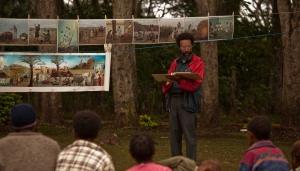 Project Number: PUS031
Goal: $153,522
Achieved: $23,540
Africa, Asia-Pacific, Latin America, Bolivia, Brazil, Colombia, East Africa, Mexico, Panama, Papua New Guinea, Paraguay, Philippines, West Africa
For many years missionaries and Bible teachers have used a high-quality set of illustrations. These have proven especially valuable among preliterate or newly literate people groups.

However, many of the illustrations needed to be changed to better fit the lessons, or in order to be more clearly understood by people who are not used to illustrations. Also, adding illustrations will help students who are unfamiliar with Bible culture, times, places and events.

We have developed 210 pictures depicting biblical events included in the Firm Foundations curriculum, beginning at Creation and continuing through the end of Acts. This project will provide easy to use, durable, high quality, printed picture sets in two sizes -- a great tool for missionaries and Bible teachers around the world. With funding we will move forward with the paper, printing, laminating, and packaging.
How You'll Be Helping
Have an impact in people groups around the world with a gift to this project. Your gift will help people from a variety of cultures who speak a variety of different languages grasp important concepts from the Bible because of the illustrations they will see.

Other Ways To Give
Use the form above only if you are giving by credit card.
To give by check or money order, make it payable to Ethnos360 and include a note if you are designating it for a particular project or missionary. Mail it to: Ethnos360, 312 W. First St., Sanford, FL 32771
Learn how to make recurring gifts with Electronic Funds Transfer