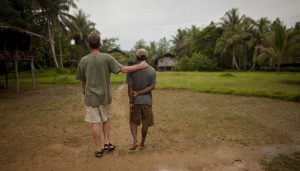 Project Number: PUS035
Goal: $126,000
Achieved: $17,134
Africa, Asia-Pacific, Latin America, Bolivia, Brazil, Colombia, East Africa, Mexico, Panama, Papua New Guinea, Paraguay, Philippines, United States, West Africa
Every year 400 missionaries return to the USA for home assignment, many of whom have experienced fatigue, stress and trauma. They need member care and assistance. Nine Ethnos360 missionary couples are strategically placed throughout the USA to connect with returning missionaries. Costs often prevent face-to-face visits when email and phone calls are insufficient. Additional funding to allow travel or financial assistance to missionaries would immensely help them in their preparation to return to the field.

The Missionary Care Fund will provide tailored assistance to the individual missionary. This may include any combination of meetings, seminars, workshops or a retreat to help and encourage missionaries.
How You'll Be Helping
Trained, experienced missionaries will be better able to return to and carry out their ministries effectively because of your gifts to the Missionary Care Fund. You will be helping them continue to take the Gospel with those who have never heard.