Recreation and Conference Center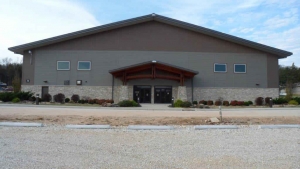 Project Number: PUS027
Goal: $560,000
Achieved: $292,646
United States
Approaching the Finish Line!
Ethnos360 Training in south-central Missouri is excited to be close to opening its new multi-purpose building named the Recreation and Conference Center (RACC). This building will help the missionary training program in several important ways.
First, it will provide a venue suitable to facilitate training activities such as weekly chapels, annual ministry fairs, graduations, and the like. Currently the campus does not have a space large enough to adequately accommodate these campus-wide training functions, especially during these days of COVID-19 and social-distancing requirements.
Second, it will provide space to host mobilization and community events to promote Ethnos360's ministry of cross-cultural church planting. The RACC will be a great asset as they host Bible college groups, church groups at Ethnos360 Training. The purpose is to expose potential students to missions and the training provided by Ethnos360. Until now housing and feeding such groups has been a challenge, but access to the RACC will help to resolve those issues.
Third, we believe the RACC will be the new social and recreational hub on campus. One key aspect of the training program is mentoring through life-on-life interactions between staff and trainees. This facility will provide an ideal space for those types of relational opportunities.
Funding is needed to complete the audio/visual system, water softener system and other items that will enable us to obtain occupancy. Additional funding is needed to provide for the complete outfitting of the commercial kitchen and other miscellaneous equipment items.
How You'll Be Helping
Your gift will enable the training program to better accomplish its purpose of equipping Christ-like servants of the church who assist in evangelizing and establishing mature New Testament churches among the unreached people groups in various complex contexts.
Please join us in praying that God would raise up the necessary funds to begin using the RACC by the Fall semester of 2021. God can get this much needed facility over the finish line!

Other Ways To Give
Use the form above only if you are giving by credit card.
To give by check or money order, make it payable to Ethnos360 and include a note if you are designating it for a particular project or missionary. Mail it to: Ethnos360, 312 W. First St., Sanford, FL 32771
Learn how to make recurring gifts with Electronic Funds Transfer