Three Helicopters for PNG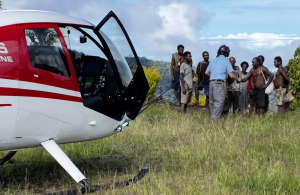 Project Number: PUS080
Goal: $4,137,325
Achieved: $3,483,462
Papua New Guinea
The first ever R66 helicopter in Papua New Guinea is on the move, serving church planting teams! A second R66 should soon be delivered from the factory. And though it will take more resources than we first estimated, due to dramatically rising prices, many of God's people are giving generously for the third R66 to complete the fleet. Is it in your heart to help?
"When are you coming?" People groups in Papua New Guinea are asking for missionaries to come and bring the hope that they see in neighboring tribes.

"When will we get a missionary? We are dying and need what you have." These groups live in isolated places, inaccessible by road, river or airplane. A helicopter is the only practical means of access. One helicopter cannot adequately serve the church planting teams currently working in our fifteen helicopter-only locations –stretched over hundreds of miles between three islands. With plans to reach three new groups yearly for the next few years, we face a critical need for two more R66s. New ministry opportunities are already on hold, waiting until we can provide adequate service. Your participation in this project could turn opportunity into reality.

Other Ways To Give
Use the form above only if you are giving by credit card.
To give by check or money order, make it payable to Ethnos360 and include a note if you are designating it for a particular project or missionary. Mail it to: Ethnos360, 312 W. First St., Sanford, FL 32771
Learn how to make recurring gifts with Electronic Funds Transfer