Three Helicopters for PNG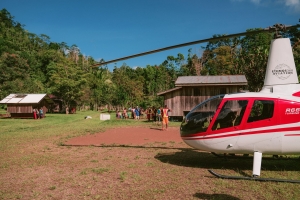 Project Number: PUS080
Goal: $3,907,730
Achieved: $3,230,994
Papua New Guinea
We thank the Lord that we have already purchased two of the R66 helicopters we need for Papua New Guinea. We shipped the first one to PNG which arrived there on January 23, 2022. The 2nd one is on order from the Robinson Helicopter Company. We are only about $900,000 away from being able to order the 3rd and final R66 needed to provide our church planting missionaries with the flight service they are praying for. Thank you to all who have helped us so far, and to those who continue to give to meet this need.
People groups in Papua New Guinea are asking for missionaries to come and teach them. But the one 40-year-old Long Ranger helicopter cannot keep up with the 15 church planting teams that rely solely on it, much less reach out to the three groups per year that the mission would like to add.
It is essential that present and future church planters in Papua New Guinea who rely solely on helicopter have the uninterrupted service that is currently lacking. They will be well served with a fleet of three Robinson R66 helicopters.
The Robinson R66 helicopters are the best choice to serve the needs of the church planting teams in PNG. They can operate at lower costs and with reduced time required for maintenance.
How You'll Be Helping
Your gifts to purchase three R66 helicopters for the Papua New Guinea field will
provide reasonable and uninterrupted service to the 15 church planting locations in Papua New Guinea that are accessible by helicopter only
furnish viable transportation to carry out the work already planned in three new groups annually for the next three years
make it feasible to reach people groups who continue to send delegations asking for missionaries to come
make medevacs available to locations that require the helicopter when emergencies arise
deliver consistent helicopter service to all three geographic regions simultaneously
We are trusting God to provide two helicopters right away and later a third to meet the growing need. Without adequate aviation service, the vision to reach groups having no clear gospel is thwarted.