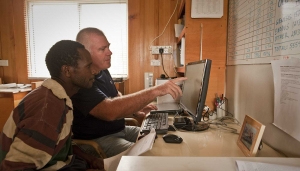 Project Number: PUS038
THIS PROJECT HAS AN ONGOING NEED
Africa, Asia-Pacific, Latin America, Bolivia, Brazil, Colombia, East Africa, Mexico, Panama, Papua New Guinea, Paraguay, Philippines, West Africa
$35 pays for a verse. That's how much it costs to pay native speakers as translation co-workers,and provide for electricity, paper, batteries, and more. That includes costs for printing proofs, and for missionaries experienced in translation and Bible lessons and literacy to come into remote villages to check progress.

And churches need more than Bibles translated. They need Bible lessons that help them understand a God they never knew about, and literacy materials to help them learn to read their own language for the first time. All those must be printed, transported and distributed.

How You'll Be Helping
Ethnos360 estimates that it takes 15 years and $277,000 from the time a work starts until a Bible is printed. That works out to about $35 a verse. Will you sponsor a verse or two, or ten? Perhaps you could choose a chapter or even a book to sponsor. All for only $35 a verse.

Other Ways To Give
Use the form above only if you are giving by credit card.
To give by check or money order, make it payable to Ethnos360 and include a note if you are designating it for a particular project or missionary. Mail it to: Ethnos360, 312 W. First St., Sanford, FL 32771
Learn how to make recurring gifts with Electronic Funds Transfer