A remarkable celebration
Many visitors joined Yembiyembi believers and missionaries for their Bible dedication.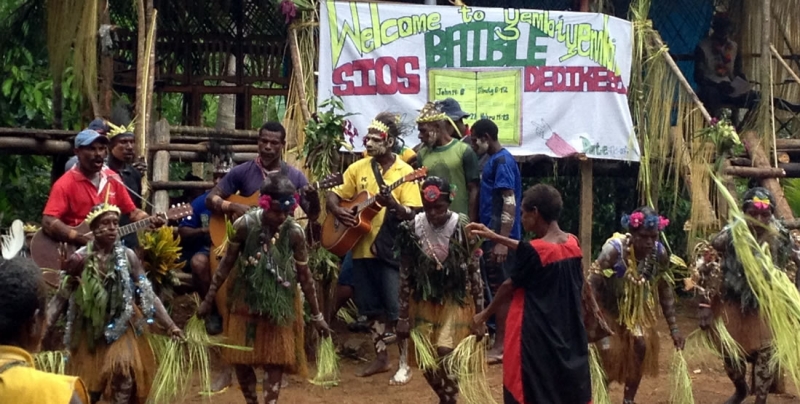 The recent New Testament dedication was the culmination of thousands of hours of translation work by the Yembiyembi missionary team and believers from the Yembiyembi church.
Missionary Brooks Buser writes, "Because of the number of visitors attending, there were three mission organizations that helped fly people here for the big day. God gave us great flying weather and a dry airstrip. It all came off without a hitch."
Four planes brought believers from several neighboring people groups, including the Bisorio, Inaru, Waxe' and Malaumanda tribes. They came to give encouragement and blessing to their sister church and to urge the Yembiyembi believers to continue to follow Christ as they have been since the church was begun in 2007.
Visiting missionary Brian Burnham writes, "The dedication began with a special dance as the Bibles were carried in a basket to a grandstand specially built for the occasion and then a song was sung for which the Yembiyembi believers had written the words."
Next, the Yembiyembi ladies decorated the face of each visitor with mud, a cultural honor bestowed on someone who has been away for a while and has returned home.
Various speeches followed from visiting American pastors, missionaries and Yembiyembi believers.
"There were eight Yembiyembi elders, deacons and elders in training who received the first eight New Testaments," Brooks says. "Next they were handed out to the rest of the members of the church. The believers were elated to finally have it all in one book … and it was obvious from the reactions that it will be a treasured part of their lives."
The dedication day was an occasion that Brooks says he will remember for his whole life. "Thanks be to God for making His name great among the Yembiyembi people," he writes.
"What a privilege to visit and be part of this celebration!" Brian adds. "To God be the glory, great things He has done! Pray that the Yembiyembi church will stand strong on the Word of God that they have received."
Would you like more people to have God's Word in their own language? And tools to help them learn to read and understand it? You can do all that for $35 a verse.