Missionary receives Queen's Diamond Jubilee medal
The Canadian government recognized Marg Jank for 50 years of service among a previously unreached people group.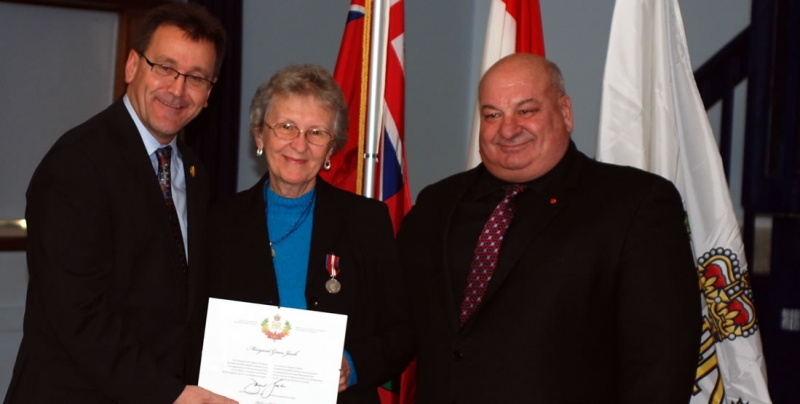 "God deserves all the glory for my work," a beaming Marg Jank humbly told the crowd of well-wishers who had traveled from as far away as California to stand cramped in South End Baptist Church in Owen Sound, Ontario, Canada late last year.
These men and women had come to join Marg in celebrating the 50th anniversary of Marg and Wally Jank's pilgrimage to Latin America's remote Yanomami tribe.
In 1962, Marg and Wally had made the long trek to Latin America, with their two children, Lynne and Bobby. During their time in Latin America, they had two more children, Janice and Davey.
After many years of faithful service, Wally went home to be with his Lord in 1984, leaving Marg to continue the work of translating Scripture on her own. Marg shares how when she first met the Yanomami people, they had no written language.
"By God's grace, I was able to write down the Yanomami language for the first time, and then to teach the people to read and write their own language," shares Marg. "Later, my son Bobby and several newly saved Yanomamis joined me in the work of translating the Bible into the difficult Yanomami language."
The evening opened with a prayer in which God was credited for allowing Marg to reach lost souls. Then several speakers shared how Marg had blessed them through her years of faithful service to them, to God, and to the Yanomami people. Following this, a time of singing ensued, highlighted by a song written by Marg using words from Isaiah 25.
The afternoon climaxed when Marg was presented with a letter of congratulations and a certificate from the Ontario government signed by local Canadian Member of Provincial Parliament Bill Walker, and a certificate from the Canadian government presented by Marg's daughter Janice Ritchie in the absence of Member of Parliament Larry Miller.
Finally, Audrey Donley, on behalf of Mr. Miller, ascended the platform and presented Margaret Grace Jank with the Queen's Diamond Jubilee medal. As she received the medal, the people in the crowd rose to their feet and began to clap. The tears flowing down the cheeks of many in the audience matched the tears of gratitude that began to trickle down Marg's face.
As Marg looked into heaven, many in the audience could not help but realize that this day was just a shadow of a better day when Margaret would receive her crown in Heaven. That crown will be awarded to her by the Lord himself, as He whispers in Margaret's ear, "Well done, good and faithful servant!"
Is God leading you to plant a church among an unreached people group?