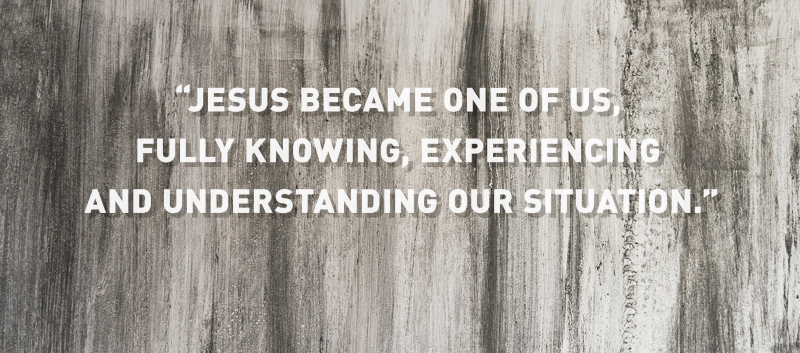 Jesus came right into the messiness of life where we live. He didn't make it easy for Himself. He didn't cut any corners on experiencing everything that humanness brings: He became flesh and dwelt among us.
He could have helicoptered in at 30 years old, done His three years of public ministry, died on the cross and called the job done. Right?
So why did Jesus choose to experience being in Mary's womb for nine months and then be born as an utterly helpless newborn baby in the manger? The Creator of the universe capable of crying and nothing else? It seems preposterous. Why would He choose to grow up in a human family, live with brothers and sisters, learn to submit to His parents? Why did He learn the trade of a carpenter from His father?
Here is why. Hebrews 2:17 says, "Therefore, in all things He had to be made like His brethren, that He might be a merciful and faithful High Priest in things pertaining to God, to make propitiation [atonement] for the sins of the people." It doesn't stop with redemption either. Verse 18 says, "For in that He Himself has suffered, being tempted, He is able to aid those who are tempted." Hebrews 4:15 adds, "For we do not have a High Priest who cannot sympathize with our weaknesses, but was in all points tempted as we are, yet without sin."
What things did Christ go through to become all this?
After His very human birth in a less than savory place, He lived a few "calm" years with His mom and dad — although the visit from some foreign dignitaries (wise men!) was a bit unusual. But before long, fear and danger became part of His family's experience as He and His parents became refugees and fled for their lives to Egypt. No doubt, it was a weeks-long, difficult trip by donkey, not knowing where they would stay along the way, maybe sleeping by the side of the road. Meanwhile, back in Israel, His birth precipitated a catastrophe as Herod murdered male children two years and under.
In Egypt, Jesus lived the life of a stranger in a foreign land along with His parents, but far from His extended family. As He played with the Egyptian children, He learned to speak their language and assimilated their culture.
Then He and His family moved back to Nazareth, a town from where nothing good could come, a bad neighborhood, the wrong side of the tracks. Not a desirable place to live.
At some point Jesus had siblings, with all the rivalry that comes with it. You know how it is — parents hard on the eldest and spoiling the youngest. He went to school, did His homework, studied hard. He was probably ridiculed in school as an illegitimate child, a reputation that followed Him through His life.
When He was twelve, His parents forgot Him in Jerusalem. They returned in a panic and searched for three days until they finally found Him in the temple discussing Scripture with the teachers. His mother said to him, "Son, why have You done this to us? Look, Your father and I have sought You anxiously" (Luke 2:48). He returned with them and was submissive to them. Submissive to His imperfect parents.
He knows what it is like to learn, as He was trained in carpentry skills by His father Joseph. He worked with His hands and developed a solid work ethic. Did He ever cut the board too short? Hit His thumb with the hammer? Did the saw ever slip and cut His hand? He had to learn how to deal with customers of His carpentry business, maybe some ornery ones too.
He knows what it is like to mourn someone very dear to Him, apparently losing His father rather early in His life. What a heartbreak, accompanied by the added responsibility as the firstborn son of caring for His mother.
In all this, Jesus became one of us, fully knowing, experiencing and understanding our situation. Then, in the ultimate act of identification, He took on not just our humanness, but our sin, "that he might bring us to God" (1 Peter 3:18). This was the capstone of his miraculous birth, sinless life, substitutionary death and glorious resurrection.
This is a message every single person needs to hear. But souls upon souls in this world have never met Jesus. They've never heard of Him. We as believers have been asked by Jesus Himself to introduce them to Him. Can we just helicopter into their village and tell them the story? No. The example has clearly been set by Jesus Himself. We go to them like Jesus did to us, living among them, learning their foreign language, experiencing all they experience, "being Jesus" to them, so we can "bring them to God."
I read a beautiful example of this in a post by Rachel, an Ethnos360 missionary to a people group in Papua New Guinea, who have yet to hear the gospel. She wrote:
"Last night I hiked down to spend the night at my friend's house! It's always quite the adventure spending the night with my friends. To be honest, I have to preach to myself before I go, because it is always a very long and uncomfortable night. I'm not getting any younger, and the floors are hard on my hips! Not to mention the cockroaches and rats. (I always make it a point to wear a headband to keep bugs out of my ears!)
"So even though I don't get much sleep at all, I feel it is so worth it. It shows my friends that I love them and want to spend time with them, and it allows me to be a part of their life at night, which I don't normally do. Talking in their language for literally hours, cooking sweet potatoes on the fire for dinner and breakfast, and just experiencing life with them is so sweet."
Rachel and her teammates have spent day after day, year after year, immersing themselves in the messiness of the lives of the people group, being in many senses "one of them" — just like Jesus did for us. And though the team cannot culminate their work by taking away the sins of the people as Jesus did for us, their living like Jesus can open the way for the people to listen to God's Word and come to Him.
To bring indigenous people to a clear understanding of the gospel and disciple them until they are a thriving church takes a lot of personal life investment in them and years of time walking beside them. It would be so much easier if we could just helicopter in and hand them a dictionary to look up the words faith, salvation, hope, love and joy. But in a culture that knows only fear, hatred and revenge, they need someone who will be a living dictionary. They need to see Jesus among them.
Is there someone you can be like Jesus to, walking with them in the messiness of life to bring them to God? Are you willing to give up your life of comfort to go and live among a people group who needs to see Jesus, hear His story, and come to God? Maybe you can help in a support skill like aviation so that others can live in an isolated place for the long haul of bringing the gospel? Ask God for His leading. Be like Jesus.