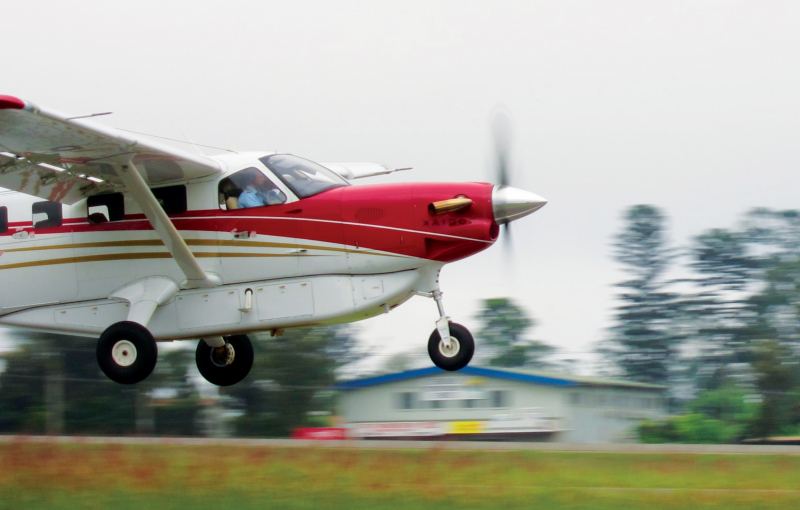 Take a moment and walk with me down Memory Lane to my years of being a kid and then a missionary in Panama. Hear the roar of the Cessna 185 as the sound bounces off the low cliff of the small river that runs by the missionaries' houses. The damp air is buffeted by the growl as the loaded plane takes off for the city with cargo or passengers.
Or go to the school where the students' heads jerk up at the sound of the prop biting the air as the plane takes off for one of the locations where missionaries are working with a people group ... and are waiting for their supply flight with fresh vegetables, meat and letters from home.
Now step into the present and listen to the whine of the helicopter's turbine as it slowly rises from the ground, turns and heads to one of those locations high in the mountains which could take days to walk to. Or watch that pilot as he gently picks up a load of building materials in the sling load.
Or note that an emergency call has come in, and the Kodiak airplane is prepped for the medical evacuation (medevac) to Australia.
All of those examples above are possible because of an incredible team known as Ethnos360 Aviation. I very much wish you could have the privilege of visiting their "home office" out in McNeal, Arizona.
Stretching out in the valley between low mountains sits the 640 acres of Ethnos360 Aviation. Desert would be the only description for the landscape — but not like the Sahara. The tumbleweeds, the cactus, the low shrubs filled with thorns, the dust devils, the azure sky, the cold nights — out in the middle of very little civilization throbs the life of Ethnos360 Aviation.
The Purpose
It was to this extraordinary location in Arizona that I made the trek earlier this year. I wanted to find out what made those aviators keep flying, what drove them to their peak of effectiveness, what made them keep going. And as I wandered around the grounds, my mouth kept dropping open in amazement.
You all have heard the saying from way back, "If God meant man to fly, He would have given him wings." Those wings are Ethnos360 Aviation — every place I looked showed how God had provided: the land, the buildings, the aircraft, and the incredibly skilled pilots, maintenance technicians and administrative people.
Phil Koop, the executive director of Ethnos360 Aviation, was more than willing to share the mission and the purpose of Ethnos360 Aviation. He told me, "Our mission is to advance the spread of the gospel through aviation to see a thriving church for every people. As part of Ethnos360, our core purpose is to assist the church planting ministries of Ethnos360 and the other Global Partners to achieve the goal of 'a thriving church for every people.'"
How do they do that? He continued, "Our vision is to provide church planters with aviation service that is safe, reliable, affordable and professional. We also provide the right aircraft to meet the ministry needs. For that reason, we have twice as many helicopters as we do airplanes. Many of our native missionaries serve in very rugged places, and they don't have the funds to build or maintain a runway. So, our helicopters are a perfect fit for their ministry."
Safe
Let's look at those adjectives — safe, reliable, affordable, professional — that describe the flight service that missionaries receive around the world.
The first one is safe. Safety is naturally an extremely high priority for an aviation organization like Ethnos360 Aviation. As Phil said, "Our safety standards are high because we deeply value the lives of our missionary passengers and their ministry. Secondly, we value the aircraft assets that God's people, through great sacrifice, have donated to us for this ministry. We train every aviator to our standards. We pursue a safety reputation that earns the confidence of the missionaries we fly."
Ethnos360 Aviation intentionally fosters a climate of safety in everything they do. It starts with an operations manual, detailing the standard procedures for every aspect of flight and mechanics. All aviation personnel are required to read the manual every year — and of course to follow all the procedures. The director of safety regularly posts relevant safety training articles for aviation personnel to read. Some of these include experiences reported from our personnel around the world that can in turn be used as learning opportunities for the rest of the team. In addition to all this, pilots and mechanics go through specific required training and safety checks at regular intervals to keep their skills up to date, and flight programs also undergo periodic audits.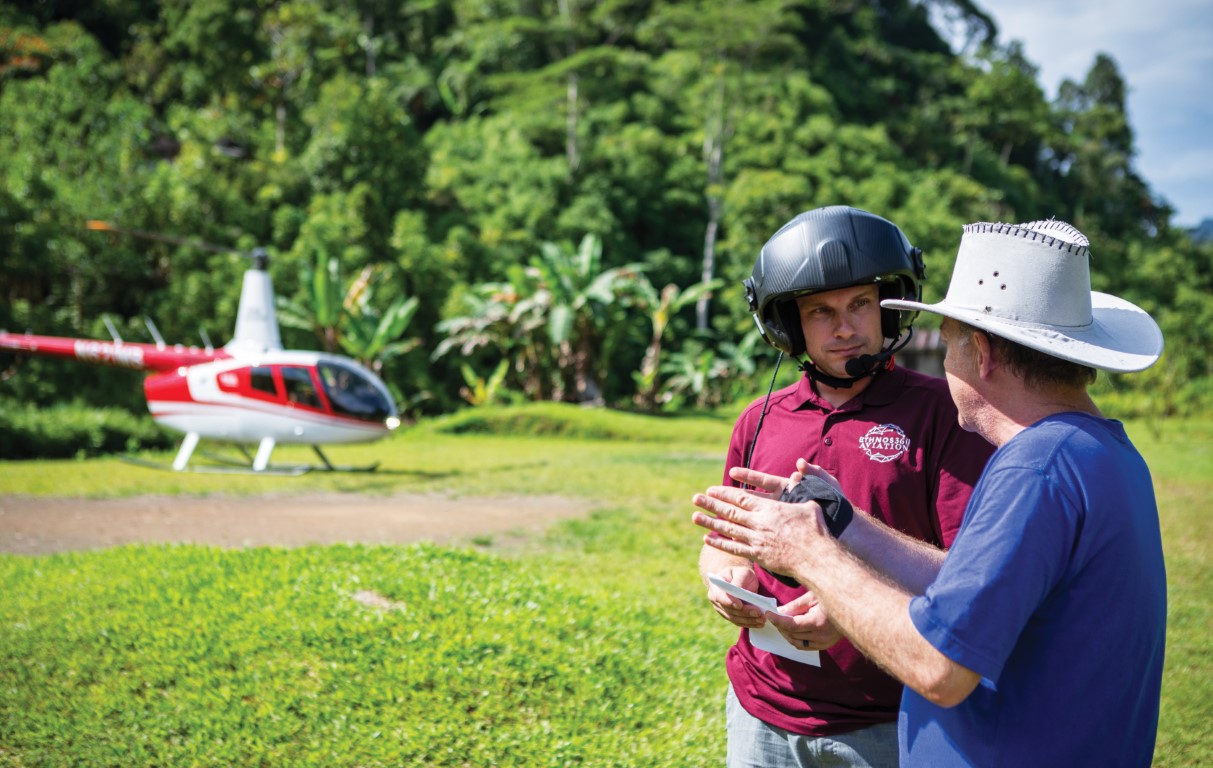 Reliable
The next word is reliable. Phil commented, "Ethnos360 Aviation supports church planters from startup until a thriving church is standing on its own … and that is a commitment to a marathon. The more hardship a missionary family must face every day of those 25 years [spent in planting a church, doing translation and other tasks], the less likely they will endure to the finish. Therefore, Ethnos360 Aviation brings sustainability. We [find] qualified professional aviators with a heart and a lifetime commitment to the church planter they are serving. How do we achieve that reliability? By providing personnel trained in both technical and nontechnical skills to achieve our mission."
Phil mentioned two examples of pilots committed to the church planters they served. Pilot Steffan Pyle worked closely with the indigenous Wana church leaders to plan strategy as they sent out their own missionaries. He helped them decide how to get missionaries where they needed to go with all the supplies they required. In Papua New Guinea, pilot John Meerstra started serving the Malaumanda church planting team by flying in the first missionaries. Twenty-one years later — after many loads of missionaries, supplies, consultants — John had the privilege of flying in the completed New Testament to this thriving body of believers and of being part of the dedication celebration. Phil says they need more pilots like Steffan and John who are committed to supporting church planting teams until a thriving church can stand on its own.
Commitments like Steffan's and John's wouldn't happen if they weren't thoroughly trained. Let me assure you that they are indeed trained! You see, they arrive at McNeal with a fistful of licenses to fly or to work with avionics or to maintain aircraft. But that isn't enough to make sure they are ready to go with Ethnos360 Aviation. I watched as Josh Verdonck was being trained to sling load the helicopter. Time after time after time with different loads and weights — even to the point of picking up an old refrigerator just for practice. And Reuel Yeow spent hours taking off and landing the Robinson R66. (By the way, their instructor has thousands of hours of flying under his belt.) And the mechanics? I watched as Adam Hodgdon and others meticulously worked on rebuilding an R66. Why? So that they will be completely reliable when they fly or service such aircraft in the place that God has chosen for them somewhere overseas.
And speaking of reliability, the aircraft need to be reliable, too. That's why they use Kodiaks, airplanes designed specifically for mission aviation. And for helicopters, they have now transitioned completely to Robinson helicopters which are simple, efficient and seldom down for maintenance — and when they do need work, they are easier to maintain than most other helicopters.
Affordable
There are obviously huge costs incurred in keeping a flight program operational. Fuel alone is expensive, not to mention the cost of buying and maintaining aircraft. But airplanes and helicopters are only an asset to ministry if the church planters can afford to use them. That is especially true for native missionaries who need it most but can afford it least. Phil said, "We provide equally affordable flight service to all members of the church planting team, regardless of their ability to pay." That is one of the outstanding features of Ethnos360 Aviation. They have developed an affordability-based flight program, only possible by generous donations to the flight sponsorship fund. With that in place, they simply charge the missionary what he can afford, even if that is only the price of a chicken. This guarantees that Westerners, nationals and even ethnic believers can afford aviation service to carry out their church planting strategy. Read more about your opportunity to be a part of flight sponsorship on page 14.
One thing that Phil stressed time and again was the fact that with flight sponsorship, the ministry is being valued more than the money. Ethnos360 Aviation never wants the cost of flights to hinder the church planting strategy. In order to avoid creating a welfare mentality, they set prices relevant to each economic paradigm.
Professional
This was an easy one: the pilots and mechanics are not lone cowboys. They are not hotshots trying to show off their skills. They work as a team whether overseas or at McNeal. I watched them work together in the parts department, the sling loading (Reuel stood with the hook ready to attach it to the belly of the R66 as it thundered over him!), the rebuilding of the other R66, the maintenance of the airstrips — and taking care of visitors like me.
But one needs to look beyond the professionalism of the personnel to see that the entire aviation branch is professional. That evidences itself in the fact that Ethnos360 Aviation provides the right aircraft in order to achieve their stated mission in the most effective manner. For instance, when their 185s and 206s were aging and aviation gas was expensive and hard to acquire, they decided to upgrade to the newly developed Kodiak airplanes. When airstrips became nearly impossible to build due to cost, permissions, time constraints, land ownership and maintenance, they added more helicopters, choosing the turbine R66 as most effective. With these two types of aircraft, Ethnos360 Aviation can tailor their service to almost any location.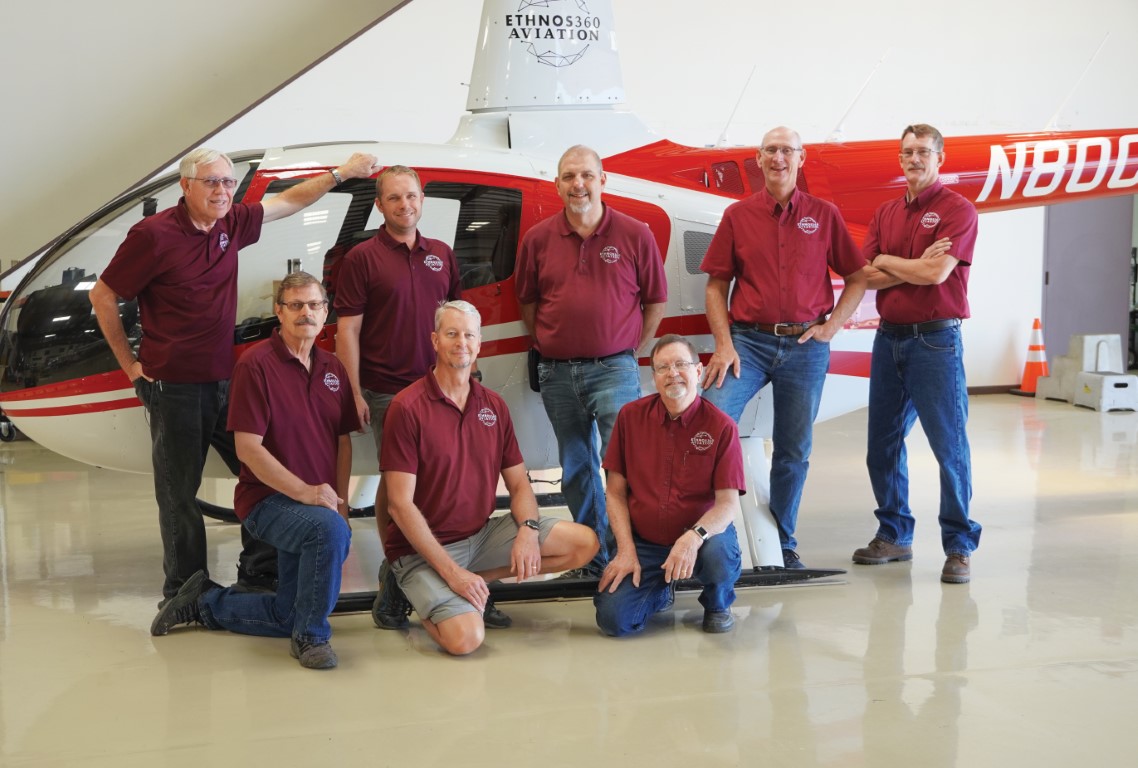 Back row from left to right: Tim Hughes (Director of Operations), Brian Pruett (International Rotor Wing Chief Pilot), Ron James (Director of Safety), Jeff Schaa (Director of Finance), Jim Stewart (International Director of Maintenance)
Front row from left to right: Dwight Brown (Director of Personnel/HR), Daren Spence (International Fixed Wing Chief Pilot), Phil Koop (Executive Director
The Driving Force
I spent a good deal of time observing life at Ethnos360 Aviation. From time to time, I interrupted the ones being trained (or the trainers!) to see what it was that motivated them. And in each case the purpose stated in the above paragraphs was reiterated in how they worked, how they flew and how they trained.
Adam Hodgdon with his wife, Amy, and their four boys are getting close to finishing their time in training. He is an aircraft maintenance specialist, and most of his training (that I saw) was on a used R66 acquired solely for the purpose of rebuilding. He shared his passion for life — on God's terms. As a missionary kid (MK) in the Lamogai people group in Papua New Guinea, his heroes were the pilots, and he decided that was how he would serve God. But God used time in Alaska to hone Adam's aircraft maintenance skills and to prepare his and Amy's hearts to serve Him. As he told me, "Even though we had what is considered 'the American dream,' it wasn't enough. We told God that if He wanted us to go into missions, He would have to sell the house and get us the money. He did!" It was a pleasure watching him carefully fitting pieces into the helicopter. By the way, they just announced that they have been assigned to go back to Papua New Guinea! Amy mentioned, "Adam will be finishing the rebuild project on the R66 here and then attending two training schools, and we should finish here around the end of May or early June."
Brian Pruett and his wife, Bailey, are on staff at McNeal. He is the international chief helicopter pilot for Ethnos360 Aviation, and his role includes training helicopter pilots. He was the one training Josh Verdonck, another MK from Papua New Guinea, in sling loading while I was there. And then — be still my heart — he offered to take me up in the R66! The incredible thing is that from the time I stepped up to the helicopter until I got out, Brian was teaching. Did he think of it like that? I don't know, but he was telling me what was happening, what I should (or should NOT) touch — and one thing that stood out was his incredible emphasis on safety.
Then there was Mark Bogner. Remember that these trainees are coming in with all kinds of certification already. Mark is a certified flight instructor, continuing his training to fly airplanes somewhere in the world for Ethnos360 Aviation. His task appointed by Phil was to show me the Kodiak flight simulator. (The pilots in Papua New Guinea use a simulator there to keep current on their flight hours!) Now, I assumed I would simply sit and watch. Silly me! Mark gently told me that I would be doing the flying. You know what? He was another teacher — explaining the knobs and buttons and handles, talking me through all the steps to take off, fly around and then land. Patience personified was Mark. As a result of his teaching, I now have logged 1.1 hours on the flight simulator.
Sidebar: Core Values of Ethnos360 Aviation
There is a current flowing through the entire campus, affecting both trainers and trainees, maintenance staff and childcare personnel. Everything is aimed at seeing pilots and aircraft maintenance specialists trained to the highest degree in order "to see a thriving church for every people."
International Flavor
Phil remarked, "Who are we? We are an international organization with most of our footprint overseas. Our membership is international. We have or have had personnel from Australia, Belgium, Brazil, Canada, Colombia, Denmark, Ecuador, England, Indonesia, Ireland, Germany, Venezuela, Singapore, South Africa, Switzerland and USA."
I was very blessed to meet Reuel and Gracia Yeow who had come to Arizona from Singapore. He is also being trained by Brian Pruett to fly R66s. Just before I arrived in McNeal, Myles and Coryn Bloye had arrived from South Africa, having been delayed about two years due to the pandemic.
According to their most recent numbers, Ethnos360 Aviation has 127 people working with them in Asia Pacific, Brazil, Papua New Guinea and the Philippines. One comment that stood out to me was when Phil said, "We have money, and we have aircraft. What we truly need is people."
The international flavor is not new. Ethnos360 Aviation over the years has had flight service in Asia Pacific, Bolivia, Brazil, Colombia, Liberia, Panama, Papua New Guinea, Paraguay, the Philippines, Senegal and Venezuela. What started in 1943 in a two-seater aircraft blossomed into a flight program with aircraft including Piper Super Cubs, Cessna 185s and 206s, Aztecs, Kodiaks, Robinson R44 and Bell LongRanger helicopters — and now Robinson R66s. As of May 2022, by the amazing provision of God, Ethnos360 Aviation has a fleet around the world that consists of four Kodiaks, eight helicopters and one Cessna 206 (for training) — and two Kodiak simulators. Two Robinson R66 helicopters are currently on order.
Volunteers
Another amazing provision of God is volunteers. As soon as I arrived at McNeal, I was welcomed by two volunteer couples who had come to help maintain the four dirt airstrips that McNeal boasts. The guest house itself was built by volunteers. Another volunteer gentleman works in the parts department. Others were working all day in putting a new roof on one of the mobile homes, and they claim it is strong enough to allow the helicopter to land on it!
Throughout the history of Ethnos360 Aviation, there have been volunteers who have given countless hours to make sure that those pilots have housing, equipment and support to be fully prepared to head to their appointed tasks. If you would like to be a volunteer, please contact Dwight Brown at personnel-aviation@ntm.org.
And Finally …
I left that desert land with a full heart. I had seen how the Lord had provided just what has been needed in order to "advance the spread of the gospel through aviation to see a thriving church for every people." I met people whose hearts were burdened with the task of reaching those unreached people groups. I shared meals with people who so beautifully evidenced a servant's heart, a requisite for pilots and their wives. These families know that they are going out to be servants, but I know that they also are going as highly skilled and fully trained servants of our God.
I am looking forward to my next flight with an Ethnos360 Aviation pilot!
Note by author: Since this is the 80th anniversary of the Ethnos360, I do want you to know that there is a very interesting history behind Ethnos360 Aviation. If you are interested in finding out more, please contact Jeff Werley at jeff_werley@ntm.org.
I would also like to thank Wonita Werley and Phil Koop for their contributions to this article.