A mountaintop minus the grandeur
Ramshackle tin shanties jostled each other along rutted dirt lanes up and down the mountainside — if one could really call them mountains. Mountains speak of grandeur and stability, but the "mountains" of this neighborhood were built on the trash of those more fortunate.
Stability was lacking in this poverty-stricken region of Mexico, where many families struggled to provide for their basic needs. These struggles were compounded by the drug trade that brought havoc to the lives it invaded. Few were left unaffected.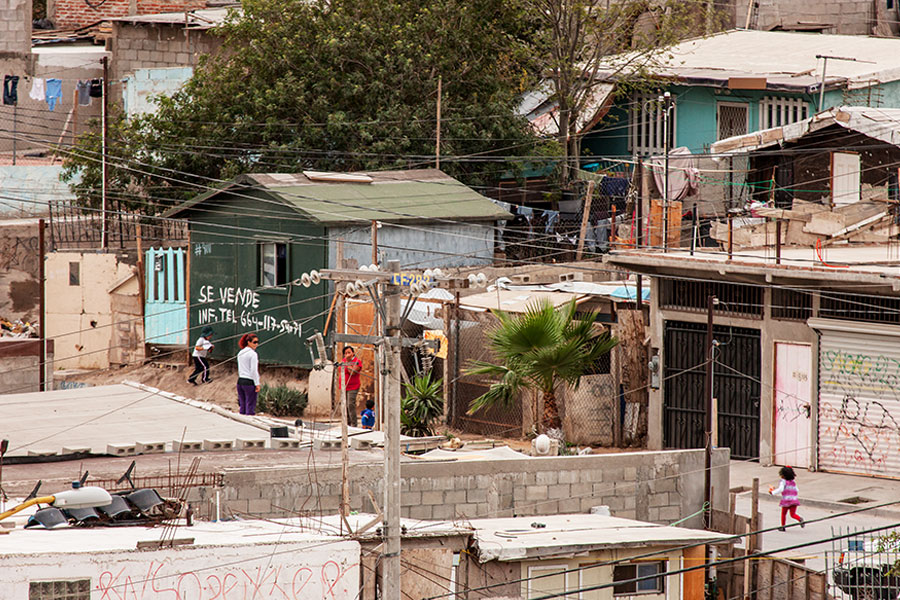 Inside one of those small tin shanties, within this community, sat a young woman. Rain pummeled the tin roof above her, but the sounds were lost on her. Droplets seeped through several leaks in the roof and fell to the ground beside her. They went unnoticed. Her mind was elsewhere.
Sitting in the middle of the room with her eyes closed, Amelia Orrostieta thought back on her childhood. While her father flitted in and out of their lives as poor life choices landed him in prison time and time again, her mother worked long hours, juggling multiple jobs to provide for Amelia and her two younger siblings.
Life wasn't always easy, but despite the hardships there were many good memories.
Tears welled in Amelia's eyes as she pondered the faithfulness of God in not only her life, but in that of her younger siblings. It was on this mountain with no grandeur that time and time again God had proven His faithfulness and His grandeur.
But she hadn't always understood that.
An invitation to hope
A "chance" invitation landed 14-year-old Amelia at a three-day youth camp. It wasn't the message that first caught her attention. It was seeing God in the lives of the youths she encountered that stirred hope in her aching soul. There was something different about them, and whatever it was that they had, Amelia wanted it. She sat up and listened.
They spoke of a God who loved her as a person and paid the price for her sins. This was so different from her idea of a distant god who demanded her good works.
"In that moment," Amelia remembers, "I knew I wanted and needed to receive the love of God. … I confessed that I needed God's forgiveness for my sins, and I trusted in His message of salvation."
But her new life on the inside didn't keep life from happening on the outside.
Mere months after Amelia stood and confessed Jesus Christ as Savior, a sudden illness took Amelia's mother prematurely from the lives of her children. She became ill one day — and the next day was dead.
Amelia found herself motherless, practically fatherless, and with two younger siblings to raise. But she knew God was faithful. "I took all my problems to God in prayer," Amelia said. "And He filled me with His peace."
It was then that God brought Amelia's father back into their lives. Although her father had many problems of his own, God was going to use him to get Amelia exactly where she needed to be.
Amelia tells how her father moved them to a different neighborhood. Once there, "I continued to go to the same church, but it was far," Amelia said. "My father didn't want me going that far … so he took me looking around the new neighborhood for a church."
This was a man who wouldn't think of stepping foot inside an evangelical church. And he helped her find one. An evangelical, missions-minded church started by American missionary Rick Johnson.
This was the church God would use to change Amelia's life.
God's plans are bigger than we can imagine
Time passed, Amelia continued to grow in the things of the Lord, and her church kept missions front and center.
"Rick Johnson had a heart for missions," Amelia recounts. "He showed us videos like Ee-taow! and exposed us to many aspects of missionary life." His passion for missions infused the very fibers of the young church.
They corresponded with and prayed for missionaries. They went on mission trips within Mexico and beyond with Rick, and his wife, Eunie. When they saw needs in missions, this struggling church in a poverty-stricken neighborhood of Mexico collected money to meet the needs. They lived and breathed missions. These were the men and women who mentored young Amelia and her siblings.
And then God Himself impressed missions on this young woman's heart.
"I was on my way home from work," Amelia remembers. "I was talking with God. It wasn't an audible voice, but I thought I heard God saying He wanted me to be a missionary. So I asked Him, 'God, do you want me to be a missionary?'"
Amelia knew in her heart the answer was yes. Still, she remembered an Old Testament principle that though children can make promises to God, their earthly father can say yes or no. She wanted her father's approval.
"God, if You want me to, I'll serve You. But if You want me to serve You, You'll have to open the heart of my father." Amelia admits, "But I never thought my dad would let me go."
Then the unexpected answer came. He said, "Yes."
Now what? She had no idea how to become a missionary. Her thoughts went something like, "I'll get my suitcase, pack a few things along with my Bible and go."
The unknowns outweighed the knowns. But by faith, Amelia said "Yes!" to God. She said "Yes!" to a magnitude of unknowns, confident that the one great known in her life, her Heavenly Father, was in control.
But it wasn't only she and her dad who had to say yes.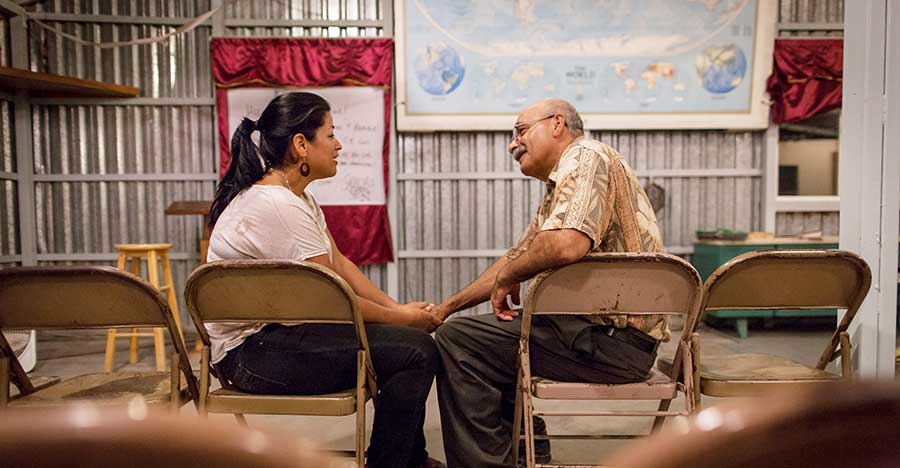 Amelia reunited with her father.
Amelia's church gets involved
"I knew my church needed to be involved in this, but I didn't understand how they would be the ones sending me and supporting me, praying for me and everything," Amelia recounts. She wasn't sure how it was all supposed to work.
Neither did they. They were well grounded, well taught, and already a church with a passion for missions — but they had never sent anyone out before.
"What does that mean? What's implied in that she wants to be a missionary? What do we do? Where do we start? How do we help her do that?" the church leadership asked missionary Rick Johnson.
And then they prayed.
For one year Amelia and the church leadership prayed for God's will to be clearly known. As the year came to a close, the leadership asked Amelia again, "Are you sure you're interested in missions?" Her answer had not changed.
Rick researched the cost for Amelia to receive training through the NTM missionary training program in Chihuahua, Mexico — and then took his findings to the church leadership.
"When we got together again," Rick said, "we put all the numbers out on the table and some of them were quite astounded. It was huge for them. It was really, really giant."
"This involves a lot of time and a lot of money!" Antonio reiterated as the meeting came to a close. "It is more than we have. For us, it is impossible."
But Antonio wasn't suggesting they give up. Over the years, the church had been taught that the work of the Lord is not dependent on the economy. So it didn't matter that they were a church with limited resources. It only mattered that they obeyed. And in that moment, facing the financial hurdle of supporting Amelia, this understanding held them firm.
Below: Pastor José Barboza holding the offering box designated for funds to support Amelia. After all these years, the church continues to support Amelia 100 percent.