Mexico City Bible Institute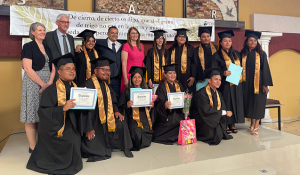 Project Number: PMX006
Goal: $1,000,000
Achieved: $235,349
Latin America, Mexico
The Mexico City area is home to more than 33 million people and thousands of Christian churches. Because it is also close to the many unreached people groups in southern Mexico, there's great potential for laborers for Christ. That makes it a great location for the Bible Institute, which offers two years of Bible classes with a strong emphasis on reaching the unreached.
Presently the school operates out of a personal residence and is so small that it can only house six to eight students at a time and train at most 25 students per year. The desire is to be able to house many more students from the surrounding areas and train more locals at the same time.
There are several properties in the area that could be purchased and renovated to become a very effective Bible school, but funds are needed.
How You'll Be Helping
With adequate space, hundreds of students could be trained — students who could become missionaries in Mexico, Latin America and around the world. Your gift helps reach people groups and transform lives.

Other Ways To Give
Use the form above only if you are giving by credit card.
To give by check or money order, make it payable to Ethnos360 and include a note if you are designating it for a particular project or missionary. Mail it to: Ethnos360, 312 W. First St., Sanford, FL 32771
Learn how to make recurring gifts with Electronic Funds Transfer