Do you think Bible translation is important in church planting?
"Without God's Word, there is no church," said Jill Goring, NTM's international translation consultant coordinator. "Everything the church is, does, and will be is based on God's revelation of Himself, His heart and His plans.
"How blessed we are to feast on it every day!" she added.
Would you like to be part of serving that feast to others? You can serve up a verse for $35.
$35 is the approximate cost of translating a verse of Scripture, and providing:
Expert help to ensure that the translation is clear and accurate

Literacy lessons and materials so people can read it and take notes on Bible lessons

Lessons so people can understand how all these verses fit together
"God wants people to know Him and be friends with Him," Jill said. "It's not just about our fellowship with Him—it's about what a high price He paid so we could be with Him forever, around His throne, looking on His face, with His name on our foreheads, enjoying His goodness forever.
"This is the Book that tells us what God planned, and how He worked it out. There's just no greater privilege than giving people the opportunity to sit and hear about Him—how things started, how things got to be the way they are, and what God has planned for the future."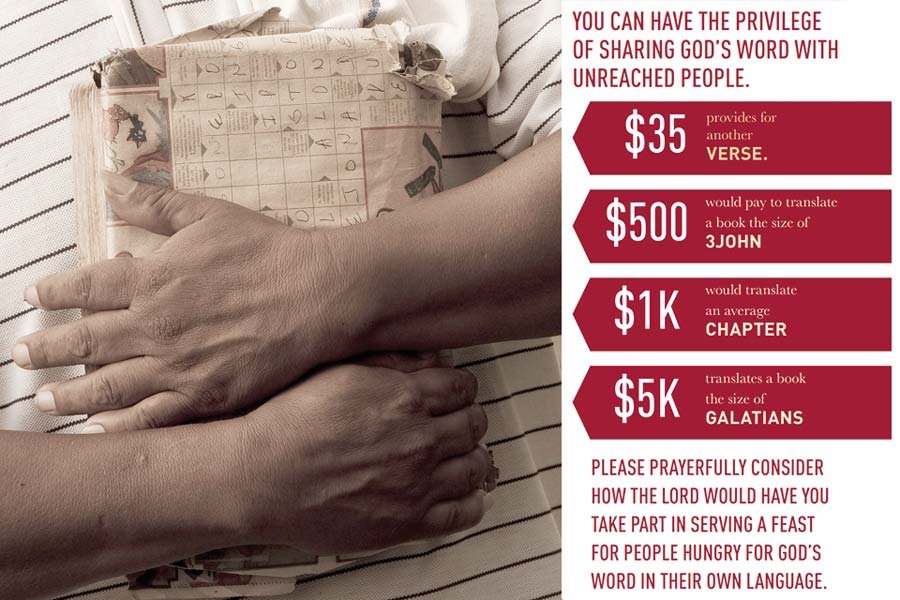 You can have the privilege of sharing God's Word with unreached people.
Each gift of $35 provides for another verse.

A gift of $500 would pay for translating a book the size of 3 John.

Your gift of $1,000 can provide for an average chapter to be translated.

$5,000 provides enough to translate an entire book the size of Galatians.
Please prayerfully consider how the Lord would have you take part in serving a feast for people hungry for God's Word in their own language.
To give toward Bible translation, use the enclosed card, or give online at go.ntm.org/translate35
You may also give with your credit card or debit card by phone. Call toll-free during U.S. Eastern Time business hours at 866-547-2460, and tell them the gift is for Bible translation, project number PUS038.