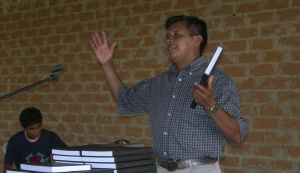 Project Number: PCO004
Latin America
Celebrate! $280,000 Given!
Thanks to the generosity of donors like you, this project has been fully funded and is now complete!
---
Related Project
If you would like to continue giving toward a similar project, we encourage you to consider this:
The Guahibo church has been growing steadily over the years. But there is an interesting challenge: all the copies of the New Testament are completely gone. The demand for the New Testaments has increased as there is an awakening to the gospel. This is the result of Guahibo missionaries reaching out to other areas. The Guahibo are scattered over two countries living in an area measuring more than 100,000 square miles.
The goal of this project is to print 20,000 copies of the newly revised Guahibo New Testament and the Old Testament portions in one volume.