John Video Translation and Dubbing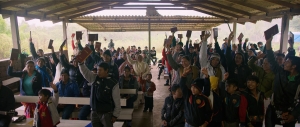 Project Number: PBO012
Goal: $8,400
Achieved: $7,987
Bolivia
There are two issues that this project addresses. First, it addresses the difficulties of a low literacy rate among some indigenous churches in Bolivia. Second, it deals with the isolation of villages that often results in wariness toward outsiders.
Many of the older village leaders have become the church leaders. But many are not literate or read with low comprehension. Only 20% of the indigenous people of Bolivia are literate in their heart language.
Additionally, the people groups in Bolivia are often scattered in many different villages. For example, the Chimane people live in over 150 villages, many of them very isolated. The more isolated the village, the more wary they are of outsiders. This makes it difficult for them to concentrate on anything the outsider is teaching.
The goal of this project is to present the JOHN video series in two of the languages spoken by people groups in Bolivia. The video in their own language will be a powerful tool to help them understand the life of Christ. The ones unable to read the Word will be able to hear it and see it. For those in isolated villages, the video presentation is non-threatening, allowing them to listen.
How You'll Be Helping
Your gift toward the preparation of this video in the two languages will allow the people to understand the life of Christ and help in the establishing of New Testament churches throughout these people groups. As these videos are done well in the heart language of the people groups, the videos become an effective tool in the hands of those who are ministering to the widely spread-out villages.

Other Ways To Give
Use the form above only if you are giving by credit card.
To give by check or money order, make it payable to Ethnos360 and include a note if you are designating it for a particular project or missionary. Mail it to: Ethnos360, 312 W. First St., Sanford, FL 32771
Learn how to make recurring gifts with Electronic Funds Transfer