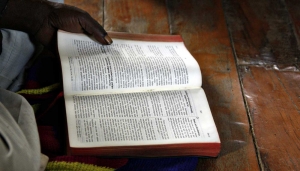 Project Number: PMZ006
Africa, East Africa
Celebrate! $266,358 Given!
Thanks to the generosity of ministry partners like you, this project has been fully funded!
---
Related Project
If you would like to continue giving toward a similar project, we encourage you to consider this:

Mwinika translation
More than 200,000 Mwinika people live in Mozambique. A team of missionaries have begun teaching evangelistic Bible lessons and now have the necessary funds to move forward with Scripture translation!

The missionary team has prepared the groundwork for translating the Scriptures into the Mwinika language and can now begin. The translation project will extend over the next 15 years including printing of the Old and New Testaments and continuing translation and literacy preparation work.

Other Ways To Give
Use the form above only if you are giving by credit card.
To give by check or money order, make it payable to Ethnos360 and include a note if you are designating it for a particular project or missionary. Mail it to: Ethnos360, 312 W. First St., Sanford, FL 32771
Learn how to make recurring gifts with Electronic Funds Transfer