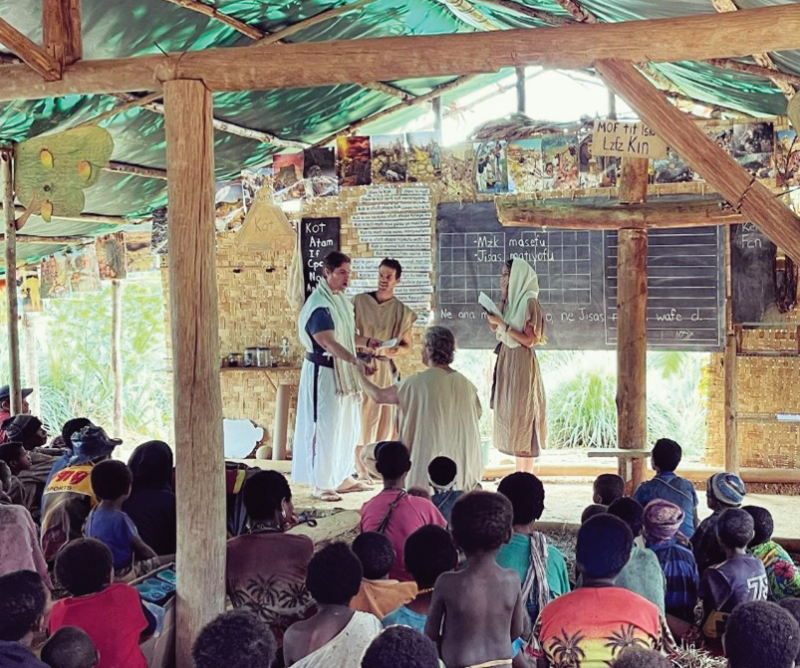 The Maliyali people have always followed many different "roads" to get to eternal paradise: ancestors, snake dancing, false prophets. Satan has used all of these different roads to greatly confuse them.
But that all began to change since Ethnos360 missionaries taught them about these things from God's Word. That is the only way anyone can discern what is Truth and what is not. God's Word says there is only one way to get to Him, and that is through Jesus. It has not been easy for the Maliyali to turn from the beliefs they have held their whole lives.
The Maliyali people have just learned that Jesus did not just "cut a road" to get us back to His Father but that He seeks to dismantle all other roads that man, through the schemes of Satan, have tried to build. They walked away saying, "God made the only road to save us! There is no other road that we can follow in which God would be pleased; no, there is no other road. Although we have so many roads on this ground to choose from, they all end in our destruction. Thank you, God, for sending the road-cutting man. We happily turn our backs to these roads because we get Him, our only true road."
After years of living among the Maliyali and learning their language and their culture to fluency, the Ethnos360 missionaries prepared 56 lessons spanning the Bible, from Genesis to Revelation, in order to teach them the greatest news ever.
At long last, they completed each lesson and many in Maliyali have come to Christ!
The urgency that we have felt for the past 10 years is gone — the Maliyali people have clearly heard and understand the gospel message in their own heart language! That is such a good feeling! Thank you, Jesus!
However, the Maliyali believers know nothing past the gospel message. They haven't heard anything from Acts or the Epistles yet, so the believers don't know yet that they are the Body of Christ — His Church. That will all come in time! They don't know how to live now in light of being saved. However, we won't just tell them any of that stuff — we will show them clearly from God's Word in their own language. Which means it all has to be translated and lessons have to be prepared. It's a mountain of work!
We have so many believers now. We hope to share some of their testimonies with you soon, but for now we start the long, slow process of teaching and discipling them. We are so grateful to all of you for praying for us especially these past few months! We ask that you please continue to pray!