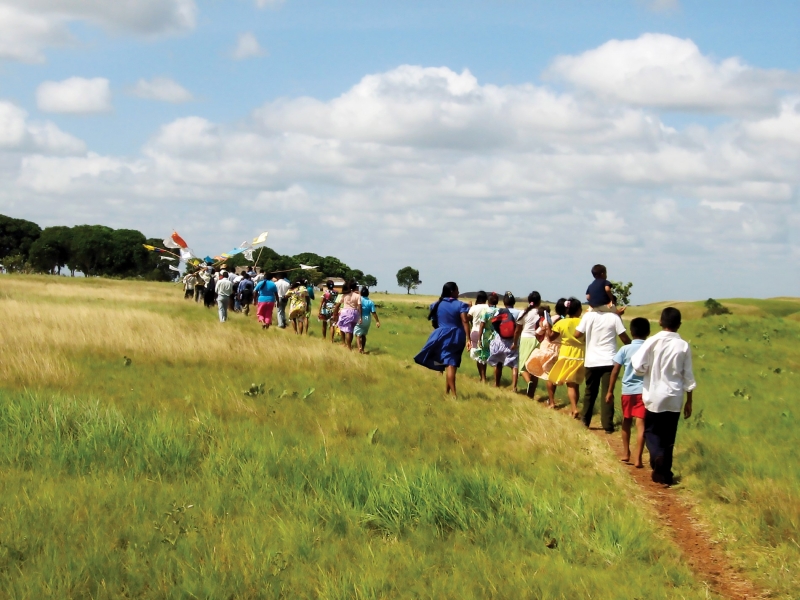 THE VISION
Lack of rain reduced the dirt streets to nothing more than a dust bowl. But the residents of the small town in the lowlands of northeastern Colombia were used to it. Soon the rains would come, and the dust would be no more. But on this day, the small group walking the streets in their Sunday best would have to put up with the breeze picking up the dust, sullying their once clean shoes long before they reached their destination, a nondescript church on the edge of the town. A nondescript church with a big heart for the unsaved Guahibo people group in their region.
Over the years, this big-hearted body of believers made numerous attempts to share the gospel message with the Guahibos, but linguistic and cultural barriers rendered the outreaches ineffective. Their efforts seemed to amount to little more than dust in the wind. There one day and gone the next.
Meanwhile, across the country, God was working in the hearts of Guahibo believers José Arturo and his wife, Janet. Already they had served the Lord faithfully for more than 15 years in their home village and in nearby villages. They taught, discipled and trained new leaders who were now teaching in other villages. They, the disciples, had become disciplers. And now, after years of ministering in their Jerusalem, God was putting in their hearts the desire to go and share the gospel far from their home area.
"In our devotional times, when we read in the Word that there were Christians going to other parts by God's command to teach His Word, this was causing an unrest in my heart and my wife's," José said. "We prayed to the Lord: 'Show us your will; we want to go. How can we participate?'"
It was during a survey trip to the lowlands in northeastern Colombia that both parties watched as God pulled it all together. The Guahibo missionary team, which by now included José and Janet, connected with the Colombian church. The pastor of the church told them, "We have been praying for a number of years that God would send people who are equipped to teach God's Word in [the Guahibos'] own language."
Imagine José and Janet's joy at hearing those words! José said, "In these days of making this survey trip to check out the possibility of teaching and planting a church, I see that God answered our prayers."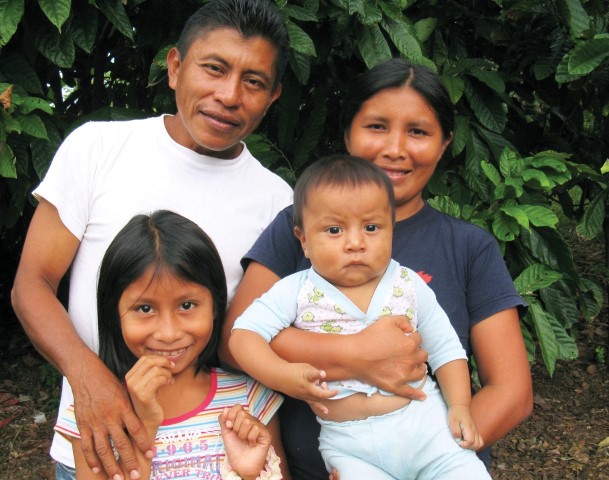 What's more exciting than to watch God bringing a partnership together and to hear how José and Janet are working at the edge of the Colombian church to reach a group of still unreached Guahibos with the good news of the gospel? But this isn't the end of the story. Nor is it the beginning.
These were neither the first actors in the story, nor will they be the last.
WHERE THE STORY BEGAN
This story began many years before, back in the late 1950s. Sophie Muller, a blue-eyed, single woman with a background in journalism and art, traveled the rivers and jungles, spending several days each month in each village.
There were no planes. There were no hotels. No restaurants.
Travel meant sitting on the rough wooden bench of a dugout canoe for days on end, sometimes under the hot tropical sun and other times enduring torrential downpours. At times travel by river was followed by a trek through the dense jungle.
Sleeping arrangements were a hammock hung under palm-roofed huts alongside the villagers. A mosquito net gave reprieve from mosquitos as well as keeping cockroaches and larger creatures
at bay.
Food consisted of whatever the people were eating that day — and that could be anything from smoked fish to tasty wild boar to palm grubs or chicken foot soup. And if meat was unavailable, cassava bread was the staple.
Beyond the mere inconveniences, there was real danger. At one village, the witch doctor cooked up a chicken stew for Sophie with a little something extra added. The villagers watched as the unsuspecting Sophie ate the soup laced with the most potent poison known in the jungle, a poison known to kill a person within five minutes.
The villagers watched as the unsuspecting Sophie ate the soup laced with the most potent poison known in the jungle.
Tweet this quote
The villagers watched and waited for the inevitable — but it didn't happen. Though Sophie experienced some vomiting, she did not die. And that didn't make sense. Could the witch doctor have failed? Hadn't the witch doctor added enough poison to kill five men? Or could the poison be flawed?
If any questions were raised about the potency of the poison, they were soon dispelled when some of the village dogs found Sophie's vomit and did what dogs do, after which they promptly fell over and died.
God's protective power was evident, and the witch doctor who had prepared the soup turned from witchcraft to God. Sophie became known as a daughter of God and was allowed to travel safely in the jungle wherever she wanted.
God used this woman to pave the way for others to follow.
And more followed.
RECEIVED WITH OPEN ARMS
"By the time we came to work with the Guahibo tribe in October of 1976, there were four different missionaries working with them," Mark and Joyce Cain told me. "At that time there were around 25 to 30 thousand Guahibos. Today there are around 40 thousand."
From the jungle-lined rivers of Venezuela to the plains of both Colombia and Venezuela, the Guahibos are scattered over a large section of two countries, a section equivalent to the size of Pennsylvania.
But the Cains recognize that they might not have been received with open arms if it it hadn't been for Sophie Muller.
"Sophie opened the way for us to go in there and reach [the Guahibos]," Joyce told me. "We were accepted as a team into the tribe because of Sophie's stamp of approval."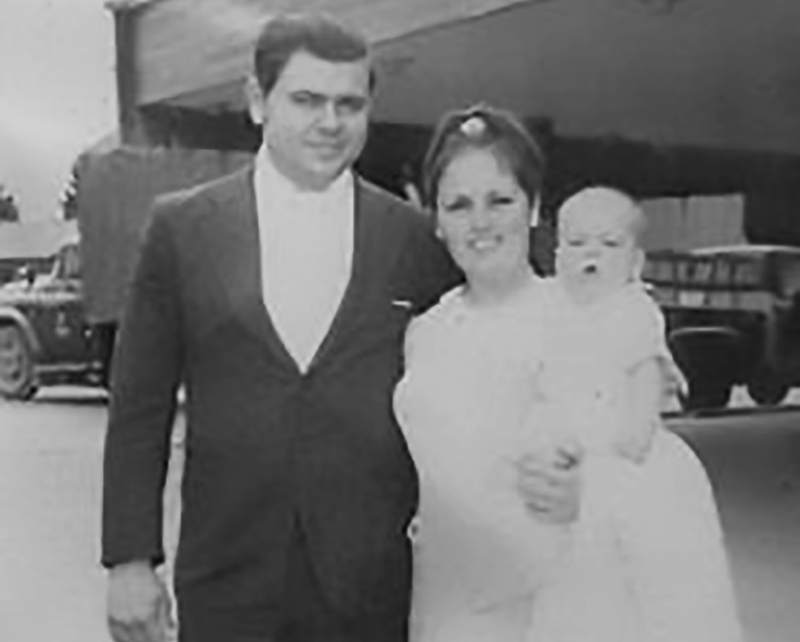 And they didn't waste any time. Mark and Joyce moved in among the Guahibos, building relationships with the people and learning their culture and language. Then they began to teach from God's Word and nurtured a small church in the Guahibo village of Raya.
"We had visions of accompanying the believers of the village where we were working and going out to reach other villages," Mark said.
And what would be wrong with a plan like that? Nothing.
But then in the guerrillas came, intent on kidnapping Mark and Joyce.
"We fled," Joyce said, "leaving a small church wondering what God was up to." Granted, Mark and Joyce wondered as well.
WHEN "PLAN A" UNRAVELS
I'm sure there's been some time in your life when you've wondered what God was up to, right? A time when Plan A — which seemed like a godly and good plan — began unravelling before your eyes. A time when you've been faced with what appeared to be — humanly speaking, at least — a less-than-ideal alternative.
I've been there. Done that.
And obviously, so have Mark and Joyce. They know all about that. They know about less-than-ideal circumstances. They know about Plan A unraveling — and Plans B and C.
"I think we might have gotten down to Plan G," Joyce told me.
They had a Plan A. It was solid. It followed the traditional missionary approach. It should have worked. And in a way it did — until it didn't.
Getting chased out by guerrillas can put a damper on your plans and aspirations. That's how it felt as the Cains watched Plan A evaporate, not knowing when they would see their precious Guahibo brothers and sisters in Christ again.
If they'd known it would be a year before they would be able to go back to the village, it might have been even harder. Sometimes it's better not to know. And the civil unrest? That would continue until 1994.
But there was a silver lining to the tragic turn of events. Mark and Joyce already had mastered the language. They already studied the culture. And the work continued to progress.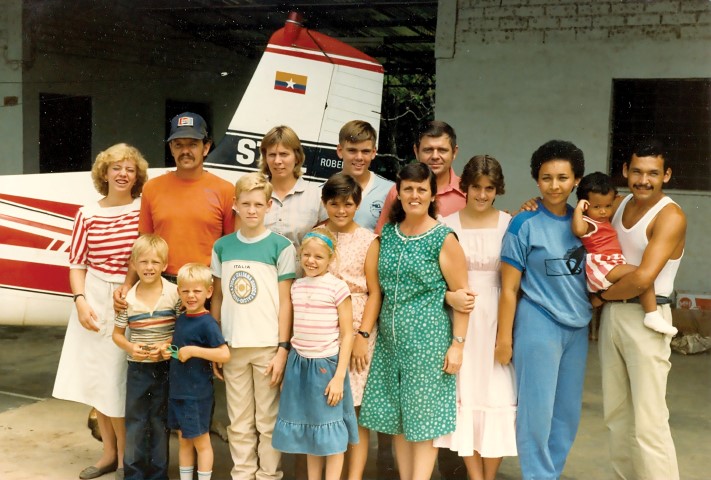 A LESS-THAN-IDEAL PLAN FOLLOWS
What followed was a less-than-ideal itinerant-type ministry.
"We would go back to the village and teach, but we had to leave many times due to guerrilla threats and then come back two months later and continue on," Mark said.
Eventually, the Cains would compare those years of flitting in and out of the village at a moment's notice as a game of "dodge them guerrillas." Mark admits that it "made for slower progress as the length of time we could remain in the village became shorter and shorter."
But it was clear that God was not limited by the tumultuous circumstances of their lives.
"God had a much larger plan. … God used our getting kicked out to change our strategy," Mark said. "There's nothing that will stop God from building His Church."
And so the missionaries adjusted their plans to align with God's.
"God led us into having a discipleship program outside the tribal area," Mark told me — and he was quick to give credit to his Colombian partner. "Alberto [González] is a real visionary. He's [the one that] began promoting [the idea] that we teach key men outside the tribal area because we couldn't live there due to the guerrillas."
"That began in 1999," Joyce added. "We invited potential Guahibo leaders from different villages to come into town in order to teach them the Firm Foundations curriculum. Then we taught them how to teach it. Initially, we had about 20, but we ended up with 12 Guahibos — kind of like Jesus' 12 disciples.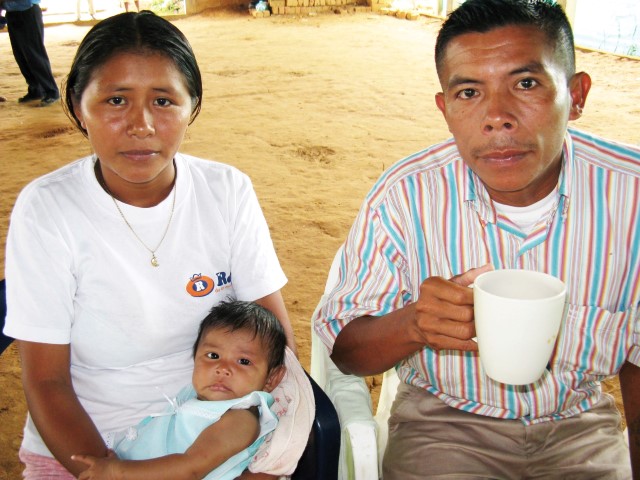 "We've continued to train them. We provide the Scripture, the chronological Bible lessons and Bible studies for all ages. Then they take off with that and go out and reach their people, an easier task since they already know the language and the culture."
And it has worked!
THE TWELVE DISCIPLES
"Those original 12 disciples have made disciples who have made disciples," Joyce pointed out. "We have the first generation of disciples, the second generation and into the third generation that are spreading the Word among the Guahibo people."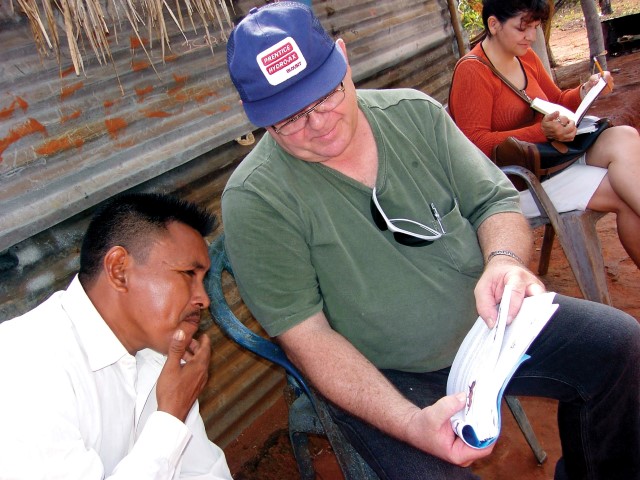 It goes to show that discipleship done well progresses to a new generation of discipleship — and in this case, a few more generations.
But discipleship was not limited to the 12. Discipleship branched out into the villages whenever it was safe to do so. Mark and Joyce remember one particular trip where they spent time in two different Guahibo villages. The travel and living conditions were definitely on the rustic side. Think lack of privacy, dirt floors, a makeshift outhouse and no running water. But the believers' responses made it, oh, so worth it!
"It was a joy to teach folks who sat soaking up the teaching of God's Word like sponges," Mark and Joyce wrote. "The concepts of not being conformed but transformed were delightful new truths to them."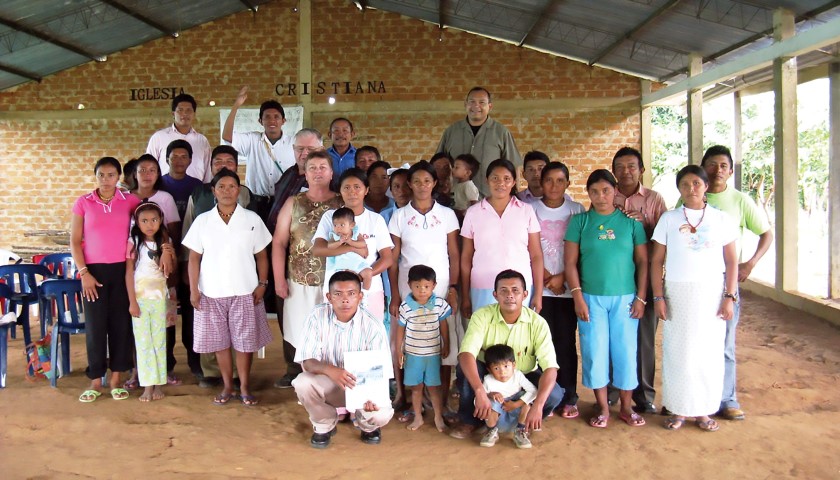 What more can you ask for?
GUAHIBO BELIEFS VS. GOD'S REALITY
"As we prepare lessons for Bible teaching, we are ever faced with the reality of what it means for the Guahibo people to apply the truth of God's Word in their lives," wrote Alberto and Nancy González .
"Jhon Jorge and I (Alberto) have been developing Bible lessons from the book of Acts. Jhon Jorge is a Guahibo brother in Christ as well as my helper in the preparation of these lessons. As we worked on the lessons, we read about how God worked in the lives of the believers in Ephesus. We also read in a Bible commentary how there were Jews in Ephesus who tried to use the name of Jesus to perform miracles and that these Jews had a lot of respect in the world of mystics. Jhon was amazed. ...
"When Jhon realized this was even a struggle for the believers of Ephesus, he opened up and began to share what the Guahibo chanted over. … He shared how his people still erroneously believed in the power and the efficacy of their chants. Then he shared his testimony with me, which showed to me how God is working in his life.
Before the birth of my daughter, who now is 7 months old, I was looking for a name for her. I liked the name Eunice. So when she was born, I gave her that name, which means "Great Victory."

One week after her birth, when as a good Guahibo I should stay home, I had to go to a Bible seminar in [another] town. On account of our tribal beliefs, no one in our families wanted me to travel. They continually reminded me of our tribal beliefs which teach that the father or mother should not travel to other places while a baby is small nor drink any water other than from the streams near the parents' village, lest the baby die.

When my family expressed their concerns and reminded me of our tribal customs, they did it because they love me and wanted to protect my daughter from harm. They knew that if I would follow our tribal beliefs, my daughter would be safe.

Two days before I was to depart, my daughter became sick. Now my family really put pressure on me. Even I began to fear what would happen if I traveled at a time like this. Nevertheless I still planned to go to the Bible seminar.

My greatest fear was not for the health of my daughter, but I was afraid of what my own father would do. My father knows a lot of chants, as he is one of the witchdoctors of the village. I was afraid my father would chant over my daughter, invoking the power of Satan. … In no way did I want this to happen! So I was praying intensely with all my heart to the Lord, asking Him that my daughter would get well before I left, so I could confidently go to the seminar, as well as asking the Lord not to let my father chant over my daughter.

I couldn't tell my wife not to let my father chant over our daughter. Because he is the grandfather, he has authority over the life and health of his granddaughter. The day came for me to leave, and my daughter was still sick. So I prayed to the Lord with all my heart and encouraged my wife to rest in God's care for our daughter.

As soon as I returned from the seminar and saw that my daughter was well, I rejoiced. My family told me how the day after I had left on my trip, my father was really down and wouldn't talk to anyone. He was very deep in thought and told my mother about a dream he had dreamed. In this dream he had heard a loud voice that told him that if he chanted over his granddaughter, he would die. On account of that dream, he had not chanted over his granddaughter as he had planned to do. I marveled at what had happened in my absence. When I heard what had happened, I could only give thanks to God. It was a real confirmation that we had named our daughter right, "Great Victory."
Alberto summed it up: "As you can see, trusting in the Lord Jesus Christ brings real challenges in the life of a Guahibo believer. From the Guahibo point of view, Jhon was behaving very irresponsibly by placing the life of his daughter in danger with his traveling. Yet to Jhon it was an opportunity for stretching and strengthening his faith."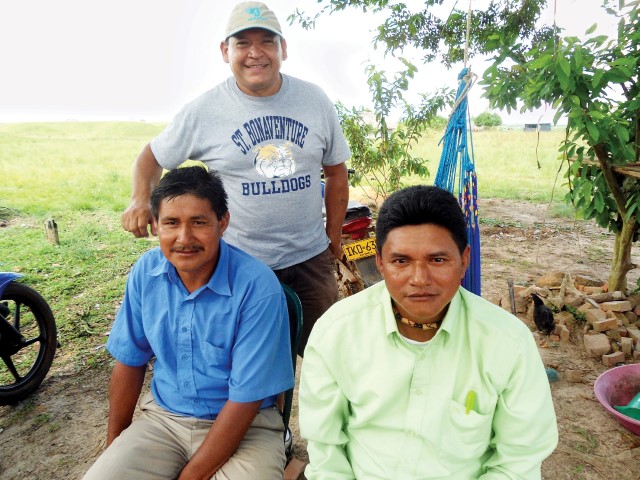 DISCIPLES BECOME THE DISCIPLERS
Looking back on those early days in the village of Raya, Mark and Joyce recall that they were focused on the adults. They were convinced that it would be the adults that would become the next generation of missionaries. But once again, God had other plans — and His plans are always the best.
"It's interesting that after we had to leave because of the guerrillas," Joyce said, "the Lord did a work on the younger generation and raised up translators and evangelists and disciplers from that generation." And it's still going on today.
"Yes," she admits, "it ended up that it was those younger kids in that small church that are now the missionaries.
"God allowed us to be part of 'our' missionary Guahibos baptizing 'their' first believers! God has opened up a new area of the tribe out on the prairies where our partner,
Alberto González, and Guahibo missionary Jhon Jorge have started evangelizing."
"I have no greater joy than to hear that my children walk in truth" (3 John 1:4 NKJV). That's how Mark and Joyce felt when two of the Guahibo missionaries, Virgilio and Alexander, baptized their first converts!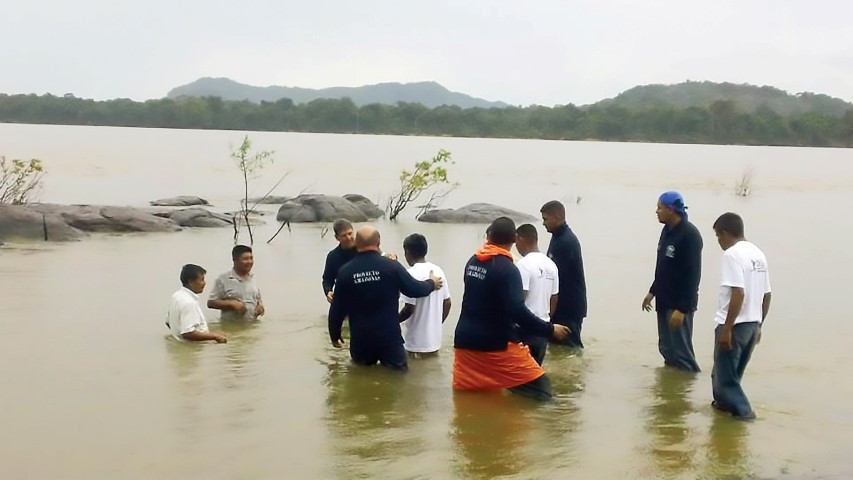 THE JOY CONTINUES
With the Guahibo people group spread over such a vast region, the diverse Guahibo missionary team is scattered across the country with differing roles.
Mark and Joyce are heavily invested in Scripture translation, and they are seeing the fruit of working alongside mature Guahibo believers in the translation process. The spiritual vocabulary has been honed and refined to bring a much clearer and more accurate translation.
Alberto and Nancy González are reaching out with their Guahibo co-workers, Jhon Jorge, Birgilio Perez and his wife, Elsa, to unreached Guahibo villages on the prairies. Alberto also heads up revising the Bible lessons to reflect the spiritual vocabulary that has been clarified and refined in the translation process.
And those are not the only Guahibo missionaries. José and Janet are partnering with the Colombian church in the lowlands of northwestern Colombia. And then there are others who do mission trips on their own, many of whom are disciples of José.
Discipleship done well has progressed to a new generation of discipleship — and beyond.
"As we phase out after 45 years of working in Colombia, [it brings us joy] to see that God has raised up different Guahibo missionaries and that God is allowing us to see the expansion and explosion of the Guahibo Church as they go out and reach their own people. Our hearts leap with joy, and we can say with assurance, 'It has been worth it all.'"
What about you?
Opportunities abound to be part of seeing a thriving church among every people — and you can be a part!
Would you prayerfully consider joining the team, whether that be as a church planter, a Bible translator or a bookkeeper? Check out our training.
Or maybe you want to get behind the Guahibo Bible Printing project or the Guahibo Lesson Revision project. Find out more at ethnos360.org/translate.
And I know there are many prayer intercessors out there. Are you signed up for our weekly prayer email and daily prayer request emails? Sign up today.
Get involved, and I'm sure the day will come when you'll say with Mark and Joyce that "it was worth it all."