"I typically spend two to six hours out with the people, observing and taking part in a normal life event. This ranges from hiking to the lake to go fishing to going through the procedures of cooking different foods to working in a garden to learning how to cut down a tree. During these days I spend more time taking pictures, asking questions, and 'experiencing' culture and language. When I get back home, I record what I did and organize my photos and audio recordings. And I often try to put together a short picture book summarizing the event so I can ask questions about it later. Also, I try to spend some time reviewing older audio recordings that I'm still learning words from."
Other days he spends with culture/language helpers: "I prearrange to meet with one or two village guys in the morning and go through language drills in a haus win (pavilion-type structure) near my house for two hours. Usually, I will spend some time going through a couple of photo books during this time, trying to elicit different nouns and verbs and things.
"This is also the time when I practice Total Physical Response language learning, where the focus is on seeing, touching, doing and mimicking the things that my culture/language helper is teaching me. This includes lots and lots of repetition of basic words and sentences that make me very thankful for my patient teachers!
"To break things up, I also try to do different 'games' during these sessions, like having my culture/language helper tell me an action that he's going to do, and I have to watch and tell him whether or not he did what he said he would do. They get a kick out of trying to trick me! I end each session by getting a few more recordings of things that we've gone over. I spend the afternoons drilling in our office with recordings. Or I'll go around with my photo books and try to practice talking about the different cultural events that I've experienced."
CULTURE + LANGUAGE = REAL LIFE
It is critical to learn language in the context of culture. Seth explains, "The C part of CLA (culture) is hugely important. It is in no way secondary to language. In fact, the more I learn, the more I see that language and culture are intrinsically intertwined. If we were to learn the vocabulary and the grammatical features of the Iski language separate from the culture in which these language aspects live, then we would not have an accurate understanding of the language.
"If language is the 'what,' then culture is the 'why.' If we want to truly learn the language, then we need to learn it in the culture that it exists in."
Take, for example, the word the Iski people use when talking about prayer. "It's a word that has been in their language forever. At first glance, this would seem like an easy and helpful addition to a missionary's vocabulary, right? Awesome! They already have a word to describe talking to God! I can use that when I teach! To find a word for 'prayer' already in the language is like gold.
"Culture, however, makes the word almost useless. It is the word that they use to talk about man talking to a spiritual being. But every time this interaction is depicted in a traditional story, the spirit is being manipulated by the man. This word doesn't represent communication between God and man. It represents man's power over spirits through words. But you'd never know that without studying the culture! And the people wouldn't know to tell you the difference, because they're only aware of their own culturally defined way of interacting with the spirit world."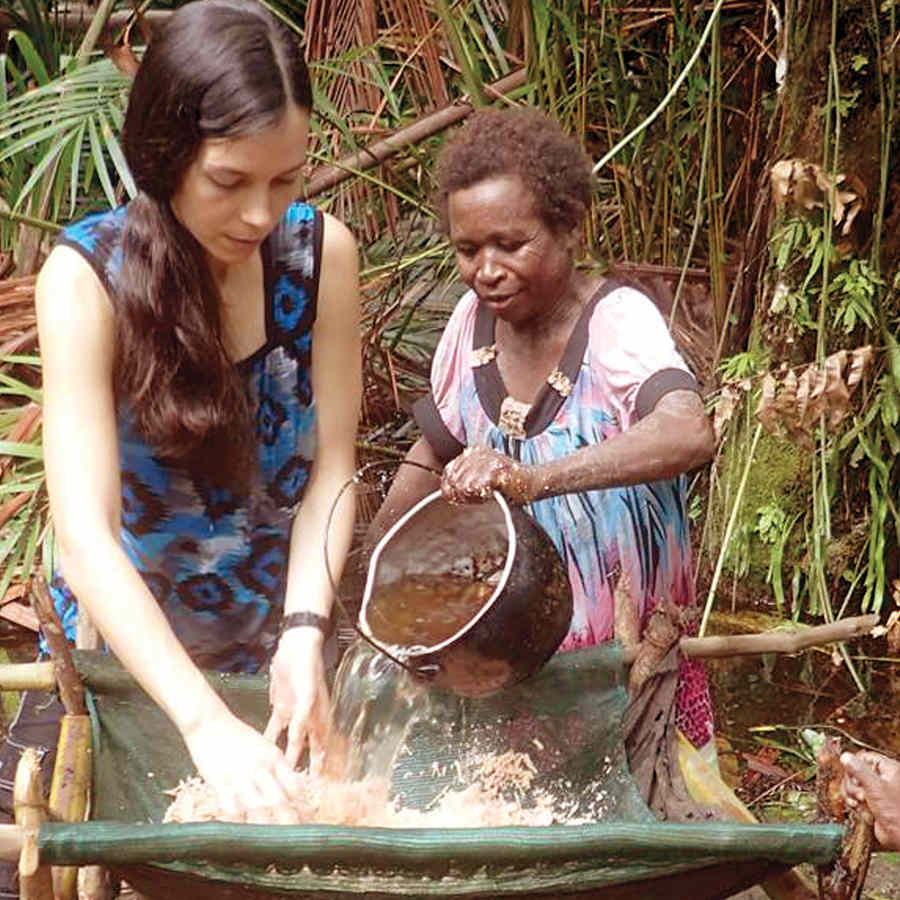 LEARNING SO THEY CAN TEACH EFFECTIVELY
Seth and Rochelle benefit from the hard work of their teammates. Jason and Nisae Williamson and André and Aurelie Tousch have lived with the Iskis for almost two years. They have already completed their formal time of CLA study.
"Because the Iski language was previously unwritten, learning to speak it has been very difficult. But after building a vocabulary and collecting a good deal of [language data], our partners were finally able to put together an orthography (alphabet)."
Nisae and Aurelie began teaching literacy classes as this article was being written. And Jason and André are diving into Bible translation and lesson development. They anticipate starting the Bible teaching early next year!
Motivation runs high for the Callahans to complete their time of CLA. Just before the singsing one of the older men in the village told Seth, "It's good that you are coming to our singsing and learning how we do things. You need to know everything about us. Then, when you bring us God's talk, you can give it to us in a way that we Iskis will understand."