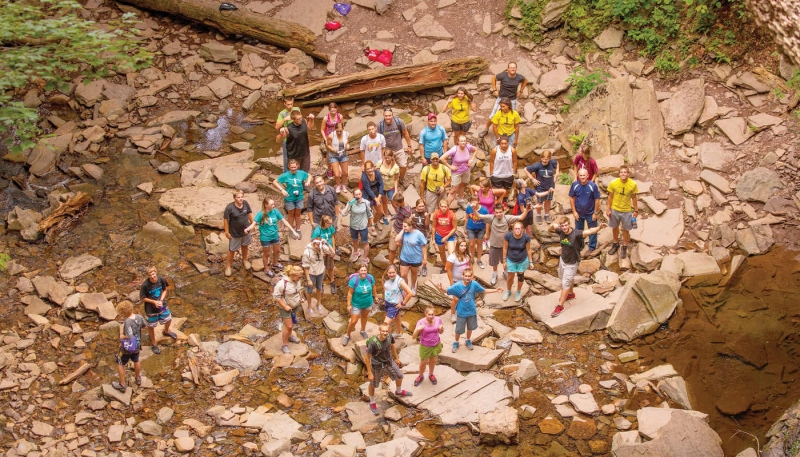 Searching for the perfect mission trip is like trying to domesticate a unicorn: It may not exist, and if you found one, you probably couldn't afford it.
Overseas mission trips can be amazing, but the cost prevents many families from participating. An ideal trip would be cross-cultural while remaining local and affordable. It seemed like an impossible goal, until I discovered Wayumi.
Wayumi is a tribal missions immersion center in central Pennsylvania. It's a place where youth groups, college students and church families can experience the life-changing impact of an overseas mission trip without ever leaving the USA. It's intense, challenging, biblically solid and a whole lot of fun.
I recently visited the Wayumi campus for a pastors' retreat to learn about their programs. I left so fired up that I've made plans to come back and bring as many people with me as I can. Here are a few reasons why you should come along too.
THE STAFF IS AMAZING
Wayumi is run by a team of veteran missionaries who established the camp after returning from the field. This means you are surrounded by men and women who have been in the trenches, ministering in some of the remotest places on earth.
Friendly and approachable, they welcome questions and jump at the chance to share their stories. I once interrupted a leader during his lunch break to ask a brief question, and was surprised when he invited me to sit down with him. He then treated me to a long conversation about his work on the field and the unique difficulties he faced in Papua New Guinea.
This sort of thing happens frequently at Wayumi. The staff make themselves available, and as a guest, you will feel like family among them.
THE TEACHING IS SOLID
Your time hearing biblical messages about missions will be well spent. This is because they want to give you more than just a missions experience: they want you to leave with a firm understanding of the work that goes into tribal missions and a biblical foundation for planting the gospel in an unreached people group.
These gifted communicators will have you laughing, weeping and occasionally wincing as they challenge your way of thinking and bring you face to face with God's heart for the lost. If you're lucky, some of that missionary fire will ignite your own heart and leave you with a burning desire to obey the Great Commission.
THE EXPERIENCE IS UNFORGETTABLE
Wayumi is a place to experience what it's like to plant a church in an unreached people group.
The camp offers a variety of immersive activities where you will need to work with teammates to apply the things you have learned. The core of this is what they call "The Village" — a simulated community with very real representations of a tribal world. Sitting near a man and struggling to communicate with him in an unknown language was a moment I'll never forget. And it was the moment I knew I would be coming back.